Join us for our First Thursday Reception at the Broadway on May 4, 5:30-7:00 pm.
Eileen Eddelman exhibits her unique portraits and nature scenes and Noël Datin McDonald delights us with her cheerful ceramics and sculptures. You'll be dazzled by these two artists' work.  Enjoy speaking with the artists, visiting with friends, having great refreshments and listening to the music by John S Crocker.
Eileen Eddelman- Painter
Welcome to a whimsical wonderland of art! This art show is like a candy store for the eyes, with a deliciously eclectic mix of styles, colors, and subjects that will tickle your imagination and leave you feeling inspired.
From the surreal to the abstract, the bold to the beautiful, this art show has it all. Lose yourself in the swirls of color and patterns, or get lost in the quirky characters and whimsical scenes that are sure to make you smile.
It's a feast for the senses, with art that begs to be touched, smelled, and even tasted (well, maybe not tasted, but you get the idea!). Let yourself be transported to other worlds and dimensions, where anything is possible and imagination reigns supreme.
So come on in, let your hair down, and prepare to be delighted by the fantastic creations on display. This art show is not just a feast for the eyes, it's a celebration of the joy, humor, and creativity that make life so sweet. Enjoy!
Eileen Eddleman is an accomplished artist based in Washington State, known for her stunning mixed media artwork that combines acrylic, watercolor, and other mediums to create vibrant, colorful pieces. Her art spans a range of styles, from abstract works that explore the interplay of color and texture to evocative portraits that capture the essence of her subjects.
In addition to her artistic pursuits, Eileen is an active member of several local art organizations, including ARTrail SWW and the Rectangle Gallery in Centralia. Her work can also be found on display at Gallery 505 in Toledo, where she is a featured artist.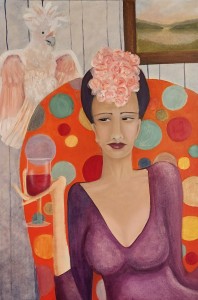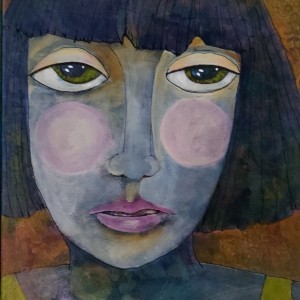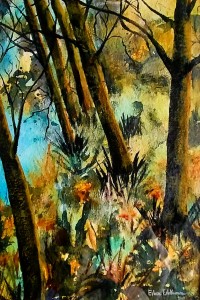 Noël Datin McDonald- Ceramics
Noël Datin McDonald is a graduate of the University of California Los Angeles with a BA in Art Design specializing in Textiles.
Shortly after graduation from UCLA, she opened a floral design studio in Santa Barbara County, Solvang, California which she owned for 25 years. She was able to put her design skills into designing floral displays for many celebrity homes, weddings, and venues.
From floral design to working with clay, she encompasses hints of nature, leaves, and florals with shape and glazing in high impact colors.