Join us for our First Thursday Reception at the Broadway on April 6, 5:30-7:00 pm.
Leon Lowman exhibits his brightly colored paintings and Richard Britschgi presents his lapidary sculptures. You'll be intrigued by these two artists' work.  Enjoy speaking with the artists, visiting with friends, having great refreshments and listening to the music by Brad Dutz.
Leon Lowman- Painter
As an abstract painter, my work focuses on large, bold, loosely rendered geometric shapes, colors, movement, and contrasts which in some ways reflect the influences of the Pacific Northwest along with my experiences growing up in the Caribbean.
Painting allows me the freedom to borrow from these past and present experiences, experimenting in a hopefully meaningful context. It is my hope that these mixed media and acrylic on canvas paintings are the embodiment of adventure and the joy of life.
I am also a passionate composer and avid kite boarder; both disciplines which also supply me with life experiences from which I can draw upon for my work.
You can view more of my work online at www.dragonfiregallery.com/leon-lowman/.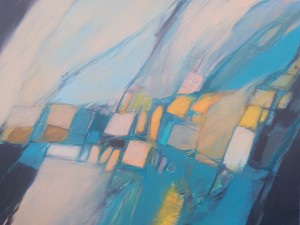 Richard Britschgi- Sculptor

Hello my name is Richard Britschgi. I live in La Center WA. with my wife Chris for over 24 years. I early retired in 2015 after a 30 year corporate life. I picked up lapidary after I retired and haven't looked back.
There is something about rocks that seem to work on everyone's imagination. I turned my shop into a lapidary shop and started cutting, tumbling and polishing rocks. We love camping and have spent my days in the desert with my sister Rachael and brother in law Mike digging for various rock and petrified wood. We basically collaborated together to learn the processes and 8 years later, we have produced some very unique lapidary pieces. I also recently joined some art organizations and have done collaborative work with my friend Connie Ford (basketry).
As far as lapidary work, the most common process is cut slabs or gems and polish, or sell the slabs to people that produce jewelry. I started tumbling river rock from local creeks and I found too big of rocks to tumble and polish. Then I bought a rock saw and started cutting the larger ones, that is when the rocks started talking to me. (No, I am not Cookoo!) After cutting pieces, they would look like a wing of some type or a face so to speak. So I went with it!
For example if you looked at the photos of my work, I made a rock lobster, the whole lobster is from one egg that i cut, and a couple of the slabs looked like lobster claws…..ala rock lobster!!
I have now started my own lapidary art business. You can view more of my artwork online at www.swavancouver.com/richard-britschgi.