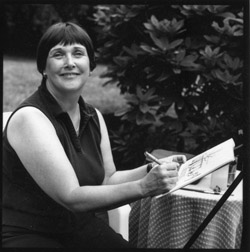 Pen and Ink, Watercolor
I spent my youth in Illinois and received a Bachelor of Science degree in Commercial Art and French. My experience in designing began with developing advertising for the Bloomington Daily Pantagraph in Bloomington, Illinois and later carried on in Oregon at Business Forms, Inc. and the Lebanon Express. I have continued to work commercially designing logos and illustrations for various companies in the Northwest.
When I moved to Rainier, Oregon I was intrigued by history the area and quickly learned that there were few old photos available to the public. I wanted to know more so I talked with the librarian to see if there were some available. After some research, I was able to find some from area family members and began illustrating several homes and scenes in Rainier. Since then, I have been developing my special interest in the coast, nature, and water scenes. My illustrations have been used for Rainier City logo, the Chamber of Commerce, and banners for Longview WA, including the 75th anniversary design.
Visit my website at : www.bethbaileystudios.com
~ Beth Bailey