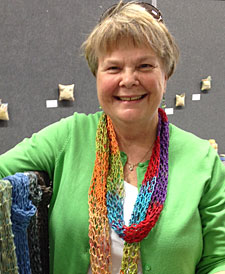 Fiber and Paper Art
My mother was an avid crafter, sewer and knitter. I remember going to a ceramics studio as a child of about six to work on different projects. Over my school years, my sisters, brother and I worked on a wide variety of craft projects.
I started knitting in junior high. My Mom knitted Aran sweaters and socks, among other things, and passed on her skills to me. Somewhere along the way, I also picked up crocheting. For a lot of my working years, my biggest project was crocheting baby blankets as gifts.
After retiring from teaching at Huntington, I took a felting class and I found something that was fun to do. You never quite knew where the yarns would take you, but the journey was fun and something unexpected. After eight years of making felted purses, I got hooked on fingerless gloves. Hats and scarves have joined the mix.
I enjoy trying to put my stamp on everything that I make. Whether it is working a knitted design into the item or trying to totally create a shape, knitting has been a challenge that I enjoy. I find it relaxing and something that I can take anywhere.
— Jane Gerdon