The Broadway Gallery is an artists' cooperative located in the heart of historic downtown Longview, Washington, featuring original artwork and crafts by Southwest Washington and Oregon artists.
December 2014: First Thursday – December 4
Featured Artists
Marie Wise (paintings & mosaics), Peggy Bird (glass), along with our annual Members Show
About Us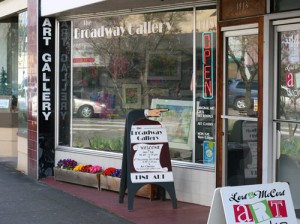 The Gallery has served the community's artistic needs since 1982. Located just blocks from other downtown shops, galleries and restaurants, it has become an integral part of the downtown art scene.
"The Broadway Gallery is the perfect place to browse and discover unique and special gifts."
Gallery Roots
In 1982, seventeen local artists joined together to form a cooperative gallery in a small storefront on Broadway in downtown Longview. The economy was very shaky at the time, and they hoped to keep the doors open at least a year or two. Within three years they outgrew the space and moved to the current location at 1418 Commerce Ave.
Founding Members
Three of the original members are still active in the gallery:  Audrey Hoffman, David Myers, and Trudy Woods. In September 2012 gallery members celebrated their 30th anniversary with a gala First Thursday reception. "We have so much to be thankful for, but most of all, we are thankful for our customers and the support of the community."
Unique, Local Artwork
Nestled among the tree-lined streets of downtown Longview, the gallery is a mecca for unique and one-of-a-kind works of art. A wide range of media is represented including oils, watercolors, acrylics, mixed media, photographs, decorative and functional pottery, fused glass, prints, wearable art and jewelry. Rentals, layaways, gift wrapping and shipping are available. Member artists staff the gallery, and can be found working at the Gallery, which is owned and operated in cooperation with the artist members. See our diverse and talented artists.
First Thursday Celebrations
A First Thursday celebration is held each month, with new featured artists, music and food. Be sure to stop by, meet the artists and enjoy an evening of art, food, wine and good company. Art classes are offered by gallery members in a wide variety of media for both adults and children. See our calendar for the schedule of events.
Join Us on Social Media!
The gallery has joined the ranks of social media users! Like us on Facebook
Stop in soon at The Broadway Gallery, and let yourself be delighted by the talents of our local artists!