Join us at First Thursday on October 1 to meet our featured artists Debra Chase, Trudy Woods and Claudia Nix,  and enjoy our members show.
Mingle with fellow art lovers in historic downtown Longview. Live acoustic guitar music provided by local musicians. Featured artists artwork on display all month.
About the Artists
---
Debra Chase – paintings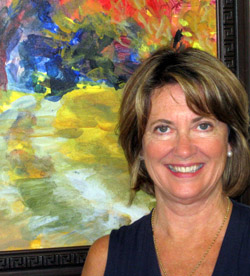 Art is a joyful, spiritual and in-the-moment process for me. Nature is a huge inspiration for these interactions. I focus on the language of art whenever I am engaged in the artistic process. Composition, color and mood have been the primary focus of these recent paintings, which were painted "Alla Prima en Plein Air", meaning they were painted completely on site in the landscape.
These Pacific Northwest landscapes were painted in the Columbia River Gorge where I paint each summer with artists from Creative Arts Community in Portland, Oregon. In tune with this group's mission statement, I believe art enhances the quality of peoples' lives.
I graduated from the University Of Washington School Of Art, where I feel fortunate to have studied with the late artists Jacob Lawrence (Cubist and African American historical painter), and Michael Dailey (Abstract painter known as a second generation "Norwest Mystic" after Mark Tobey).
Additionally, I received a MAT from Lewis & Clark College in 1996, and I have been a teacher/artist for 25 years. I continue to seek out new art experiences, wherever they may exist, and to challenge myself to a place beyond my comfort zone.
---
Trudy Woods – Pottery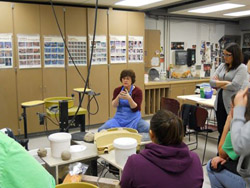 For this show I decided to create a body of work totally different from the functional stoneware pots I usually make. While I was trying to figure out what to do, I was approached to make a memorial piece for a woman who had to put down her horse of 20 years. She wanted a piece of horsehair pottery using hair from her horse. This was such a rewarding project that I decided to explore horsehair pottery.
Horsehair pottery was developed by Native American potters in the Southwest. These pieces are made from either white stoneware or porcelain clay. Most were formed on the potter's wheel. When they were bone-dry, they were coated with 3 coats of terra sigillata – a suspension of the smallest particles of clay – and rubbed to a satin gloss with a soft cloth.
I experimented with coloring the terra sigillata for some of the pots. When they were dry they were heated to 1500°F, removed from the kiln with tongs, and placed on a piece of kiln insulation. Horsehair was then applied by hand to create the black patterns where the hair burned onto the pot. After it cooled the pot was washed, and some were waxed. The firing requires at least two people, and my friend and former student Cheyenne Hughes, volunteered to help. I can't thank her enough.
While I am happy with many of these pieces, I am just beginning to learn how to use this medium. The process is very hot and stinky! There was much more cracking than I would like. I had hoped to use some feathers, too, but I just couldn't get them to cooperate. They turned into big black blobs! I'm not sure I will continue this work in the near future, but it has been fun!