Mingle with fellow art lovers in historic downtown Longview. Live acoustic guitar music provided by local musicians. Featured artists artwork is on display all month.
About the Artists
Vicki Brigden – Jewelry
I love to work with colors and textures and combine materials in my jewelry that might not normally go together. I combine different metals, such as copper, silver and brass along with earthy gemstones and faceted crystals. I also like to add fiber, ribbons, buttons and charms to my jewelry. I don't try to follow the trends in jewelry, instead, I like to make pieces that I want to wear. The pieces tend to always be in the rich colors of Raku pottery; coppers, blacks, purples,
greens, blues.
Fall is my favorite season because I can start layering accessories like scarves and necklaces that coordinate, so for this show I have created unique crocheted and knitted scarves and jewelry in colors that compliment each other.
I have been working with different mediums in art since I was a child. I never went anywhere without my pad of paper and pens. I loved to draw cartoons and I thought I would work for Disney when I grew up. As I got older I tried different mediums; painting, sewing, crochet, collage, cake decorating, pottery, jewelry. After high school, I went to Eileen Seals College of Fashion Merchandising in Seattle and then came back to Longview and got my Associates Degree at Lower Columbia College. I think I took every art class they offered while I was there.
I've done a lot of different art related jobs since then. I've painted signs, worked for JCPenney doing display, illustrated ads for Bob's Merchandise, illustrated a children's book and a science curriculum, and decorated birthday, shower and wedding cakes, I collaborated on pottery with my husband John, and after my son was born I started making jewelry. I have been a member of the Broadway Gallery since 1991.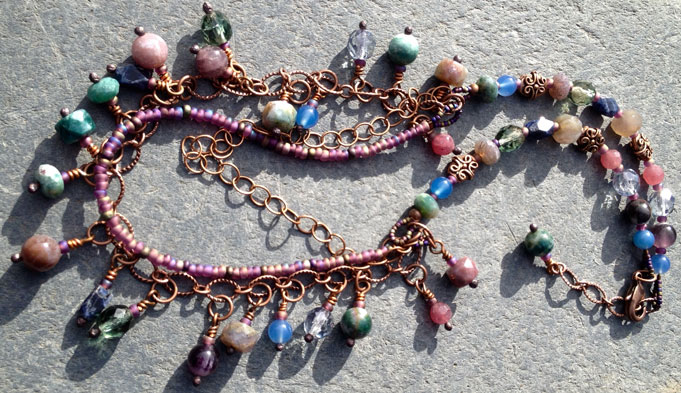 ---
Scott McRae – Painting
I was born and raised in Longview Washington and have lived there for 49 years. I became interested in art early and took classes in it. I have a fascination with anything that is creative which attracted me to Artrails where I have been a member for the last twelve years. I act, write, play the French horn, do art, direct puppet shows. What I like about art is that it allows me to express exactly what I am thinking and feeling like no other art form can. It is my best means of communication.
The cubist artists, like Picasso, liked to show the many angles of an object because they were not satisfied with just portrait the frontal view of objects and people. What I like to do with my art is show the energy, the colors, the design, the lines that may not be apparent at first glance of an object, but to me are very much present. I want to show the colors I see, the shapes embedded in the subjects I choose, and an overall design that I think best suits what I am painting.
I studied art at Lower Columbia College in Longview WA and received a BA in Art at Linfield College, McMinnville OR. At both colleges I have learned to get the most out of color choices and composition selections. I paint to reveal the basic shapes and colors in what I see. My art can be seen at the Broadway Gallery in Longview WA year round where I also teach art.
---
Ann Munson – Collage Painting
"How does this damn thing work?"
I have come to the conclusion at age 64 that a comfortable state for me must be confusion.  Things interest me. I struggle to understand.  Eventually, I conquer. A professor once said,  "If at some point in any painting you don't hate it, you haven't challenged yourself enough."  Not a problem for me.  I have always made art of some kind.  I taught art partly because I couldn't decide on just one medium.  Also, I like kids.  I made stained glass objects, panels, and colored pencil drawings that were published and later started a gift business.  Since those things were hard, I built a greenhouse and took on horticulture.  Me. Ms. Not Science.  I have two sons and two grandkids.  I think I'm the crazy grandma.  Everyday is a happy,funny new challenge even when it's not.
My work is three parts, all fun.  First I carve stamps, cut up rubber combs and mix paint.  Then I make my own papers.  It's pretty much finger painting for grownups. I cover the entire floor of the greenhouse with colored patterned sheets.  Next I draw, tear paper and glue shapes onto canvas.  It looks like a quilt at this stage.  Finally I use transparent acrylics to add dimension, light, form, and air.  I'm drawn to a push-pull of flat shapes and interesting textures vs. subtle color and atmosphere.  The mantra posted in my studio is "Visual complexity; compositional clarity."  Huh? Complexity and clarity.  "How did you say this damn thing works?"
---
Chris Warren- Baskets
I began my weaving activities in 1987 when I signed up for a variety of classes at a local art center.  These classes included photography, woodworking, pottery and basket weaving.  While I enjoyed all of the classes, weaving quickly became my favorite.  Learning the different weaving processes and how they change with different materials has opened the door to limitless possibilities.
My focus is on using materials from the Northwest and I spend many weeks gathering most of what I use.  I take great pleasure in knowing that I can make something from what would otherwise die, decay, or be destroyed.  Starting in the late spring permits from the US Forest Service, I gather cedar bark and wild cherry bark.  Continuing through the summer, there's harvesting cattails, iris leaves, and anything else that might be usable.