Join us at First Thursday on September 3 to meet our featured artists Gail Wahlstrom and Mitzi Christensen, and enjoy the paintings of Gini Smith who passed away last April.
Mingle with fellow art lovers in historic downtown Longview. Live acoustic guitar music provided by local musicians. Featured artists artwork on display all month.
About the Artists
---
Gini Smith – Special Exhibit
Long-time gallery member Gini Smith passed away in April 2015. A special exhibit of her paintings will be on display.
---
Gail Wahlstrom – Paintings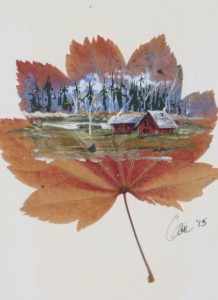 When I think of art, what I see in my world comes to mind. I love to use bits of bark and leaves, feathers and gourds. I fill them with things I grew up with in Northern Minnesota, or in our lives spent in the Pacific Northwest where we've lived for the past 40+ years.
I walk along the Lake Superior shores or the Columbia River, seeing things I want to savor forever. I pick up a piece of birch bark and feel the texure, look at the lovely colors and growth patterns and in my mind's eye, I see what needs to be painted upon its surface. I look at a feather, and see an eagle soaring above me, or a tiny chickadee pecking at the seeds I've left for her, to fill her belly.
I don't know that I use proper painting techniques, I don't know that I'll ever be satisfied with the images I try to re-create. I just dip my brush in water and color, and begin. Rarely do I draw the subject first; the paint flows and I watch to see what happens. Often what I think might be a throw away, in the beginning, becomes something I want to keep, or share. I hope you enjoy my efforts.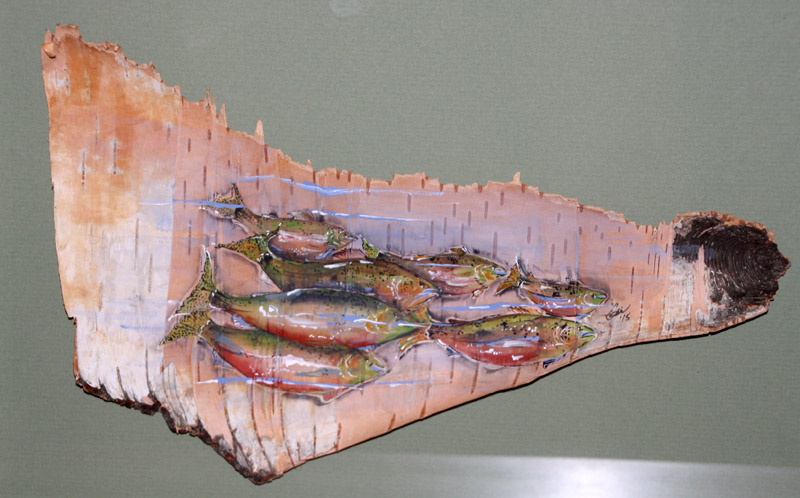 ---
Mitzi Christensen – Paintings
I grew up in Northern California and lived for many years along the California coast and on the Big Island of Hawaii before retiring to Cathlamet. In college I took some art classes but majored in business for practical purposes. I didn't get back into art until retirement. Since then, I've taken many classes and workshops from professional artists and galleries, and accumulated a library of instruction books.
My love of the sea and endless hours spent on boats is reflected in my paintings. My style would be realism with overstated color and values. I enjoy drawing and sketching with pen and ink. For painting I love acrylics. I enjoy the strong color for drama and fast drying aspect as I am impatient and work fast. Although I have a picture in my mind when I start, I prefer to work out the details on the canvas as I go, making changes as needed and letting it evolve. The ability to experiment until you're happy with the results gives a freedom and boldness not available in other media. I feel talent is a gift from God and If my art brings happiness to someone, then I have achieved my goal.
My work can be seen at the Tsuga Art Gallery in Cathlamet and on the Columbian Artists Assocation website.