Come celebrate November with our 1st Thursday and Holiday Opening. Visit the gallery during November to view gallery artists, Debra Chase with her paintings and Laurie  Michaels, with her paintings, photography, and sculptures.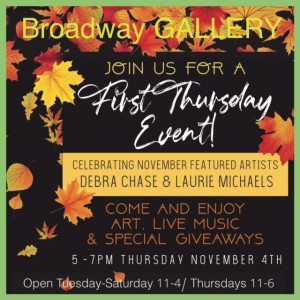 Debra Chase – Contemporary Painting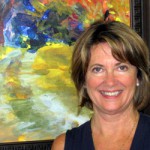 Art is a joyful, spiritual and in-the-moment process for me. Nature is a huge inspiration for these interactions. I focus on the language of Art whenever I am engaged in the artistic process. Composition, color and mood have been the primary focus of these recent paintings, which were painted "Alla Prima en Plein Air", meaning they were painted completely on site in the landscape.
The larger paintings are Pacific Northwest landscapes that were painted in the Columbia River Gorge where I paint each summer with artists from Creative Arts Community in Portland, Oregon. In tune with this group's mission statement, I believe" Art enhances the quality of peoples' lives." (creativeartscommunity.org)
The two warm "Desert" paintings were inspired by travel to New Mexico where my husband and I hike & paint at Georgia O'Keefe's beloved Ghost Ranch most Septembers.
The small watercolor & ink "Vignettes" were done in October of 2021 as my husband and I traveled and painted in southern France. This was a step into history with sleepy small rural French towns, each with a castle & a bridge near a river. Of course, the food was exquisite!
I graduated from the University of Washington School of Art, where I feel fortunate to have studied with the late artists Jacob Lawrence (Cubist and African American historical painter), and Michael Dailey (Abstract painter known as a second generation "Norwest Mystic" after Mark Tobey).
Additionally, I received a MAT from Lewis & Clark College in 1996, and I have been a teacher/artist for 25 years. In retirement I continue to seek out new art experiences and to challenge myself to a place beyond my comfort zone.

Laurie Michaels – Pastels and Sculpture
I have always considered myself an artist. Mostly self-taught, except for an inordinate number of high school classes, I love to explore with color and different media. Currently, I am doing a deep dive with soft pastels, exploring and discovering as I never have before. My main focus is the other creatures of the earth. I have always been drawn to animals and birds. I love showing them to people in ways they may not have seen them before.