During the January 5th, First Thursday from 5:30 pm to 7:30 pm, enjoy the music of Trish Ballard and help us celebrate some great artists' work.
Tim Foertsch- Metal Artist
I am an artist focused on reclamation of unwanted material, I turn the unwanted into something new. All of the material I choose to work with originates from something that was destined for the waste stream. My hand made finished works contain metal of all varieties. When available I love to work with old tanks, appliances, tools, or general knick knacks which are no longer wanted. I also create mixed media pieces; incorporating wood, glass, or plastics into my work. I also enjoy having functional pieces for fires, or vines to climb on.
I severed as a 501c board member for CrackedPots.org for two years who's mission is about recycling education through the arts. I frequently collaborate with other artists for special shows or unique custom orders. I am represented in several Northwest Galleries, public installations, have had work showcased in Museums world wide and regularly specialized local events.

Debra Chase – Painter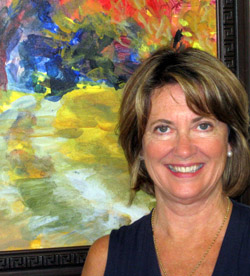 Art is a joyful, spiritual and in-the-moment process for me. Nature is a huge inspiration for these interactions. I focus on the language of Art whenever I am engaged in the artistic process. Composition, color and mood have been the primary focus of these recent paintings, which were painted "Alla Prima en Plein Air", meaning they were painted completely on site in the landscape.
These Pacific Northwest landscapes were painted in the Columbia River Gorge where I paint each summer with artists from Creative Arts Community in Portland, Oregon. In tune with this group's mission statement, I believe art enhances the quality of peoples' lives.
I graduated from the University Of Washington School Of Art, where I feel fortunate to have studied with the late artists Jacob Lawrence (Cubist and African American historical painter), and Michael Dailey (Abstract painter known as a second generation "Norwest Mystic" after Mark Tobey).

Janis Newton
Art has been an important part of my life since early childhood. My teachers and other artists, including my father, nurturing my creativity in several media. I express myself in sculpture, photography and oil painting. In college, I supported myself by selling paintings of old buildings in Washington State.
Being a high school art teacher for 29 years has been rewarding and given new perspective to my work. I feel art is more than putting ink to paper or oil to canvas. In order for art to have impact and value to others, it must convey a message. This message is the personal statement of the artist.
I am drawn to human form as a means of delivering my message. I don't believe there are enough lifetimes to exhaust all the possibilities of expression the human form provides. Therefore, almost all my work includes people. My sculptures are of women, my photography includes men and women, and my oils feature the female form.

Robert Stowe- Photographer/Artist
Robert Stowe is a photographer-artist specializing in conceptual, personal, and underwater photography. He is renowned for his ease of style and real approach to commissions. Robert is passionate about his work and brings much more to shoots than technical expertise. He is keen to discover new ways of representing unique images through photography. He is never jaded or bored. His long list of awards and special recognition is evidence of a lifetime pursuit of his craft and special talent.
Robert began his career as a sports photographer for a newspaper in the Bay area. His portfolio contains numerous portraits of fascinating events and individuals. His breakthrough to award winning photography came with the exploration of the possibilities associated with deep water diving. Robert is perhaps best known for capturing the light, color, and movement found under the ocean surface. He believes this is due to the grittiness and hectic quality of the Water World. "You never capture it, it captures you."