Mary Fortner works with the 'sparklyest' crystals by Swarovski. It's no surprise a talented jewelry maker would love the fashion design crystals made by the Austrian producer of luxury cut lead glass.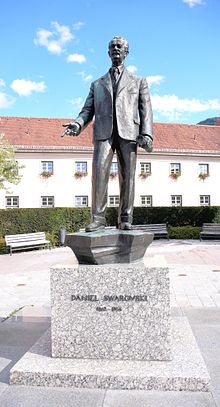 The company dates back to the 1800s, when young glass cutter Daniel Swarovski patented an electric cutting machine that facilitated the production of crystal glass. The Swarovski company was formed, establishing its first crystal cutting faculty in Tyrol, Austria.
Later the Swarovski company expanded to include Tyrolit (makers of abrasive and cutting tools, and Swarovski Optik (optical instruments such as binoculars and rifle scopes, among other ventures.
Today, the name Swarovski is best known for its fashion accessories and crystal based ornaments, as well as the spectacular 'sparklyness' on Mary Fortner's jewelry creations!
Join us this month for our September 4 First Thursday to see Mary's 'sparkly' creations, the photography of Lijah Hanley, and our annual Miniatures Show.
Yes, we are open during the streetscape project! Avoid the mess on Commerce Avenue by parking and entering from the back.
Learn more about Swarovski,
About Mary Fortner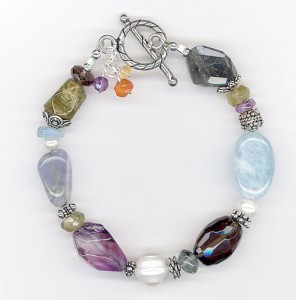 I have always loved sparkle. As a child, I was thrilled to see the flashes of sunlight off the quartz in the crushed rock lining the side of the road where I walked. Imagine how thrilled I am to be able to work with the "sparkly-est" crystals–Swarovski–and turn those sparkles into jewelry that someone will buy and wear.
I also love working with gemstones and freshwater pearls. They are creations from the earth and each bead is unique. When I hold a strand of gemstones or freshwater pearls in my hands they feel alive to me and they speak to me in a secret way to guide my designs.
I am honored to be a member of The Broadway Gallery and one of the featured artists for September.
"Colors of the Mountain"
With glistening snows on my shoulders and the earth beneath my gray boulders, I rise in majestic splendor above the morning mists. Muted blues of water and sky glisten, deep forests breath green, and wildflowers gather at my feet. I am Mount St. Helens.
Green Garnet: strength and serenity
Flourite: spiritual energy
Ametrine: creativity
Freshwater Pearl: faith and clarity
Smoky Quartz: grounding stone
Aquamarine: insight and luck
Labradorite: attracts success