During the December 6th, First Thursday from 5:30 pm to 7:30 pm, enjoy the music by Dennis Harris, light snacks, and help us celebrate these artists' fine work.
Quentin Noel Robbins – Illustrator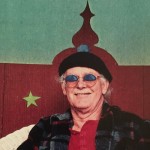 Quentin Noel Robbins works primarily in pencil or charcoal, india ink and acrylic on mahogany plywood. He also does three-dimensional monoliths or "tombstones: in wood, welded steel and analog instruments. His latest exploration is in working with sliced agate and stained glass. He feels that the most valid critique or evaluation of the artist's work should not be verbal but first-person visual.
He has alsso worked putting the written word into visual imagery. Clark College has a series of painting on Robert Service's poem "The Cremation of Sam McGee" and he is presently working on a series based on Alfred Lord Tennyson's poem "The Lady of Shalett" in four studies (NFS) will be on display.
The eclectic artist artist also has two of his "Sewing Machine Tractor" on display and for sale.
The show will be on all during the month of December; Please go and, as they say, enjoy!

Daniela Ivanova Nyberg
Daniela Ivanova-Nyberg is a Bulgarian artist and scholar residing in Silver Lake, Washington, since 2008 when she married Dr. Gary Nyberg, a music professor at Lower Columbia College. She was first introduced to traditional wool techniques in the 1980s by Bulgarian craft masters. By the late 80s Daniela had already established her own style of combining wool with yarn, cord, textile, leather, wood, objects from nature, and more. Her originally designed and crafted clothing were juried by members of the Union of Bulgarian Artists and displayed at the most prestigious show-room in the heart of Sofia, Bulgaria's capital city. During her years as a member of ARTrails (2010-2014) Daniela explored other media, such as tiles, to which she is indebted to Dr. Bernard Bleha.
Daniela holds a Ph.D. degree (ethnochoreology) from the Bulgarian Academy of Sciences. She serves as an artistic director at the Bulgarian Cultural and Heritage Center of Seattle and as an educator at the Bulgarian-Macedonian Association in Portland, Oregon. She has published one monography, four poetry books, and many scholarly publications.
Website: http://danielaart.net/wp/

Barbara Conyne – Mixed Media/Ceramist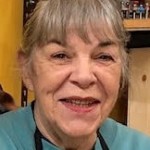 Barbara had a long time association with Graystone Gallery until it's closing and has been a free-lance artist since then.
Her ceramic/mixed media pieces have won awards from Salem Arts Commission, Art Slate in Condon, Oregon and Beaverton Arts.
Exhibitions include: Blackfish Fishbowl window, Art Slate, Blackfish Back Room, Newport Arts Center and Creative Arts Community shows.
She has also been a guest artist for several small art galleries in the Portland area.
Barbara is also a published poet with awards from Seattle Arts Commission, Portland Poetry Festival and Oregon Poets Association.

Greg Conyne- Mixed-Media Sculptor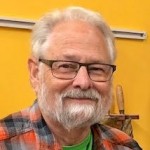 I have been a member of Blackfish Gallery since 1990. Blackfish is a co-operative. It is owned and operated by the artists. It has been in operation since 1979 making it one if the oldest co-operative galleries in the USA.
Exhibitions include: Blackfish Gallery, Corvallis Art Center, Gallery 110 (Seattle), Gallery 55 (New York), Lower Columbia College, Clackamas Community College, and World Forestry Center.

Barbara and Greg have been collaborating with each other for 45 years. Some call it marriage, but a marriage is a true collaboration. We share a studio and talk to each other about what we are doing and get each other's opinion as to what they think of the piece. This has been an ongoing phenomenon practice of ours.
So what do you do when you are given 15 identical boxes and have a show coming up that is to be a collaboration? What you see on the wall is what you get. Some of the boxes were done by one person, but most were worked on by both us. Nothing was purchased specifically for this project. Everything was already in the studio. There is no theme, but each box is a statement in and of itself. It was truly a wonderful and enriching experience.
Some of the work shown here is our own individual work with the only input from the other partner being technical help and critique.