Happy Independence Day!
With the Fourth of July falling on first Thursday this month, we are holding our First Thursday on the second Thursday this month.
That way everyone can enjoy all the festivities surrounding Independence Day, and not miss our First Thursday opening! Hmmm, maybe we should call it 'Second Thursday'!
Longview's  annual Go Fourth Festival is so much fun! There's Entertainment on Martin's Dock, Timbersports, Kid's Festival, Parade, Cardboard Boat Regatta, Food & Market Vendors, and of course…fireworks!!
Art Fact: John Trumbull was an American artist during the period of the American Revolutionary War and was notable for his historical paintings. His Declaration of Independence (above) was used on the reverse of the two-dollar bill.
Join Us for July Second Thursday
July 11, 5:30 – 7:30 pm, with music by Dian McCracken
Our featured artists this month are exceptional. They are:

Featured Artists
Charles Funk (paintings), Stan Gibson (pottery), Jane Gerdon (fiber and paper art)
Scroll below, or click artist's name to learn about these artists and their work.
About Charles Funk – paintings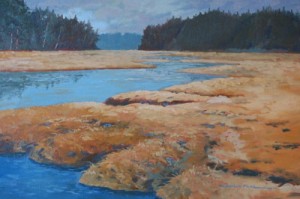 Most of my life has been spent in Southwest Washington. I am a member of the Chinook Tribe and serve on the Tribal Council.
I attended Art Center College of Design in Los Angeles and graduated from Central Washington University with a degree in art education. After several years in both secondary and elementary education, I worked as a commercial artist in advertising and illustration. I illustrated a book for National Fish and Wildlife, "Cathapotle, Catching Time's Secrets.
I was one of thirteen Native artists from along the Columbia River to show at an invitational show at Hood River. In September I will be represented in an invitational show at Portland University.
All of these works are in oil, although I work in watercolor, drawing, and carving. Art is something I do constantly, whether I am in a studio, traveling, sitting by a river, or relaxed in a restaurant. I do "realistic" art because for me that is the most direct avenue of communication. Now I find myself more and more painting a feeling, a memory rather than a specific place or time. My primary inspiration is still the waters, hills, and culture that have always been a part of me.
---
About Stan Gibson – pottery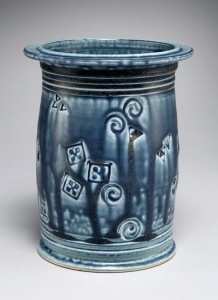 Making pots for me is about an impulse, a gesture, a thumbprint or the bend of a handle, a knob teased into an architectural form in miniature. It's about only the simplest of ideas most difficult to achieve–craftsmanship, strong form, and interesting surface–the visceral qualities of clay, of fire, and the physical work.
---
About Jane Gerdon – fiber and paper art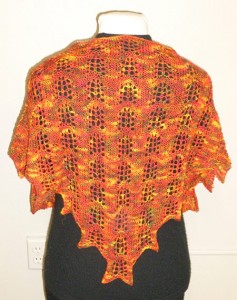 My mother was an avid crafter, sewer and knitter. I remember going to a ceramics studio as a child of about six to work on different projects. Over my school years, my sisters, brother and I worked on a wide variety of craft projects.
I started knitting in junior high. My Mom knitted Aran sweaters and socks, among other things, and passed on her skills to me. Somewhere along the way, I also picked up crocheting. For a lot of my working years, my biggest project was crocheting baby blankets as gifts.
After retiring from teaching at Huntington, I took a felting class and I found something that was fun to do. You never quite knew where the yarns would take you, but the journey was fun and something unexpected. After eight years of making felted purses, I got hooked on fingerless gloves. Hats and scarves have joined the mix.
I enjoy trying to put my stamp on everything that I make. Whether it is working a knitted design into the item or trying to totally create a shape, knitting has been a challenge that I enjoy. I find it relaxing and something that I can take anywhere.