The Broadway Gallery is proud to bring the Zimbabwe Artists Project to Longview in June, for a showing of folk art created by the women artists of Weya in rural eastern Zimbabwe.
Melinda Gates and the Gates Foundation works to improve the lives of mothers and children through better nutrition and reproductive health.
The Zimbabwe Artists Project of Portland works to improve the lives of women and their families through creative endeavors that generate income and security.
Both efforts share the common goal of connecting people, across all boundaries and cultures, through a process of education, healthy living, and economic self reliance.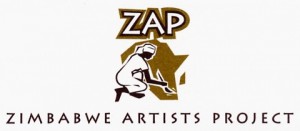 The goal of the Zimbabwe Artists Project (ZAP) is to communicate with Americans about the culture and history of their country, and to help people learn about the artist's lives. The artist women of Weya are subsistence farmers, mothers and householders as well as artists. Most women live on their own, providing for families. Some are widowed, others are single heads of households, since throughout Zimbabwe men leave the rural areas to seek work in cisites. Sales of their art  helps women afford food, clothing, school fees, medicines, transport, seeds and fertilizer, among other things.
"Weya art is beautiful and affordable, telling stories of the artists' lives in paint and fabric. Come and see for yourself how ZAP connects people, across boundaries of culture and privilege, through art."
The project has it's roots in the Lewis and Clark College Oversees Programs, and was started by Dick Adams, a sociology professor who led students to Zimbabwe in 1994, '97 and '99 to learn about gender and social change. He founded the Artists Project in 1999 in order to help the women find a market for their artwork in the USA.
ZAP provides health care for its artists, including care for those who are HIV positive, and transportation to Harare, the capital city, for critical access to health care. In the same way that Melinda Gates and the Gates Foundation works to provide clean water, sanitation and hygiene to poor and underprivileges areas in the world, ZAP completed a clean water project in Weya and is working to respond to the the HIV/AIDS crisis.
The artists use four different techniques: painting on boards and other hard surfaces, painting on fabric, applique, and embroidery. Their work is colorful and unique, reflecting the symbols, animals, plants and peoples of their native environment.
Becoming artists has given these women a new sense of themselves as creative people, and we are proud to showcase their work at our gallery here in Longview, Washington during the month of June.
Please join us for a First Thursday Reception, and all month during June, to see the artworks of the women of Weya, Zimbabwe.
First Thursday, June 2
5:30 – 7:30 pm
Music by Farrell Harris and Connie Wallace
Learn more about the Zimbabwe Artists Project
Watch videos about the Zimbabwe Artists Project