The Salal Review, by Kathryn Marks, gallery watercolor artist
 
The 2011 Salal Review will be available this week! Did you know there is a Salal Spring Arts Festival to celebrate the 2011 issue? You are invited to join the celebration!
Salal Spring Arts Festival, and launch of the 2011 Salal Review
Friday, May 27
1 – 5 pm
Rose Center for the Arts
Lower Columbia College
Not only can you pick up your free issue, but you can participate in hands on art demonstrations, view original art in The Salal Review, tap your feet to live music, and listen to poetry!
The Broadway Gallery Artists demonstrating are Audrey Hoffman (book art), Debby Neely (relief carving), Scott McRae (acrylic painting), and Richard Roth (pottery). Audrey will show her very unique and inspiring handmade books, answer your questions and talk about how the books are made. Debby Neely will  make a relief carving.
Children can participate in hands on art – carve, ink, and print. Scott McRae will be painting an abstract of geraniums. You will see how he applies an amazing technique of acrylic paint on canvas.
~ Kathryn Marks
Learn more about The Salal Review
Past issues of The Salal Review: 2007 | 2008 | 2009 | 2010
---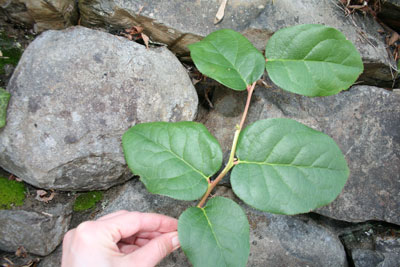 Salal, by Marie Wise, gallery artist and Gallery Gal webmaster
Gaultheria shallon is a leathery-leaved shrub in the heather family (Ericaceae), native to western North America. In English it is known as salal, shallon, or in Britain simply Gaultheria.
Not being a native Washingtonian, I've wondered about this plant, Salal, and why a magazine would come to be named after it. I visited the coast to see Salal growing wild along pathways and in wooded areas. I read that Salal harvesting is a large industry which supplies cut greenery worldwide for floral arrangements. I even bit a leaf once to see if it was really astringent (it was) which explains why it has been used for medicinal properties.
After thinking about Salal I came to the conclusion that the originator of the first Salal Review magazine must have had a close affinity for the plant, in order to name an art and literary magazine after it. Perhaps it was because Salal is natively gracious and soothing, as the poems, pictures and gentle thoughts contained in its namesake. That's all I can figure out. If anyone knows, and I know someone does, perhaps they'll tell me if I'm right about why the Salal Review camed to be named after a plant used to flavor fish soup!
~ Marie Wise