Join us for First Thursday on July 9 to meet our featured artists Madeline Houston, Bob Kizziar, Julia Martin and Jan Nontell.
Mingle with fellow art lovers in historic downtown Longview. Live acoustic guitar music provided by local musicians. Featured artists artwork on display all month.
About the Artists
Madeline Houston – Photography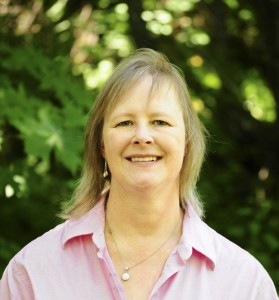 Madeline is a former film photographer who switched to digital photography in 2004. For many years she used an old metal German camera that she bought at a garage sale in the early 1980's. She learned the basics of photography using that camera. When she dropped it and it was damaged, she bought a new camera, and has had several new ones since, but that old camera is still dear to her heart.
She lives on a farm surrounded by nature where she can just walk out the door and find things to photograph. Activities like walking, hiking, canoeing and camping get her into natural areas even more. She and her camera can be found anywhere from city parks to wilderness areas. She's happiest when the sights, sounds and smells of nature surround her.
"At that moment there is nowhere else I'd rather be. If I'm lucky, something special catches my attention. When this happens, I try to capture it with my camera," Madeline Houston
Other than nature, her photographic loves include old barns, animals, boats, historical sites, and city scenes.
Find Madeline on the web at:
---
Bob Kizziar – Ceramic/Metal Sculptures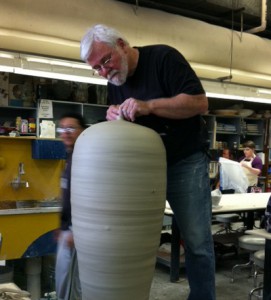 Since the mid 1970's Bob has dedicated a great part of his life to clay. The vessel has been his consistent form of expression. Bob is a superb craftsman when it comes to the use of the potter's wheel. It is the finishes of his work; however, that bring him distinction. Bob's pottery surfaces have a design derived from a balance of chance and control in the firing process, and his pieces have a presence that is enhanced by the contrast of their rough-hewn forms while the process and the artist's hand are evident in the elegant finishes.
Bob has had his work accepted in exhibitions across the nation and internationally, and enjoys an extensive national list of collectors. Bob and his wife Jenny Kizziar have conducted workshops on ceramics throughout the west and in Ireland and Germany.
Bob has spent many years in various capacities as an Arts Administrator including serving as Chairman of the Art Department at Fresno City College. He was the founding president of the San Joaquin Clay Association, served on the advisory board of the Buyer's Market of American Craft, Vice President of the California Craft Network, an Artist Facilitator for the State of California, the first Gallery Director and Vice President of the Kings River Arts Council, served on the board of the Stonehouse Artists in Residency and was a full time ceramics instructor at Reedley and Fresno City College.
Bob lives in Cathlamet with his wife Jenny and dog Cutter.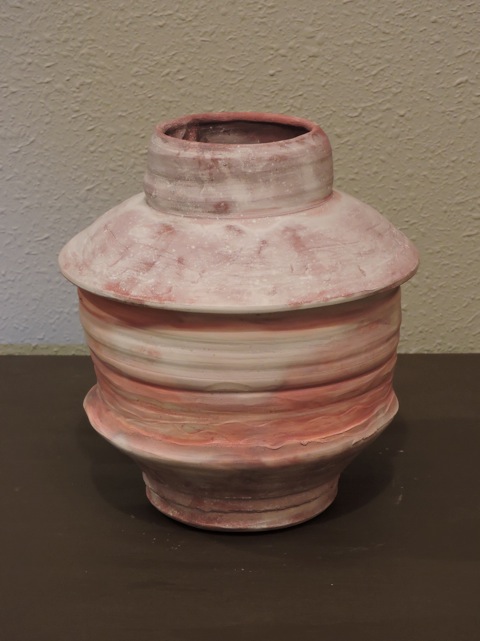 ---
Julia Martin – Paintings
Reflecting Home; Back Again
Julia's show features paintings from her series 'Places that are no Longer, Memories of Mount St. Helens', along with her series about colorful skies.
She was born in Longview and went to Western Washington University where she earned a BS in Visual Communications with focus in computer illustration and animation. In 1998 she won Real Networks International Flash Animation Award with an animation called "Momm!!". The jury included Stan Lee and Bill Plymptom.
These last few years she's re-emerged into painting, using nontraditional objects to apply acrylic paint to canvas. Her technique of short groupings of impasto stokes has been compared to pointillism. It is a natural affect of the tools she uses to paint with like hair picks, chop sticks and meat forks. Her use of dramatic lighting, texture and colorful shadows has been likened to the landscapes of John Singer Sargent.
Julia makes paintings of places she remembers from trips to the family cabin on Mount St. Helens before the eruption in 1980. A book capturing these paintings and stories behind this series is in progress. She also paints the natural scenery that surrounds us. Her paintings have been on public display at the Jansen Art Center and in Bellingham for the last two years. She lives in Bellingham, WA.