Romantics will find inspiration in our gallery this month, with poetry inspired glassworks by Peggy Bird, and Russian styled paintings of flora and fauna by Linda Schneider. Combined with the fresh colors of Mitzi Christensen's nautical paintings, we think you'll feel like spring is on the way!
Please join us for a First Thursday Opening Reception to meet the artists and see their work.
March 1
5:30 – 7:30 pm
Music by Steve Harvey
Featured Artists
Ron Nelson (paintings) | Peggy Bird (kiln formed glass work)
Mitzi Christiansen (paintings) | Linda Schneider (paintings)
Here is a little about our March artists:
Linda Schneider
Linda Schneider is a nurse, and finds that painting makes a wonderful balance with the demands of nursing. She started painting 15 years ago when her Mom asked her to join a painting workshop of acrylic on wood. She was hooked, and went on to study oil, pastel and watercolor, creating scenes with animals and flowers as found in nature.
For this exhibit Linda's focus is painted acrylic on wood. She's always admired the Russian floral style of Zhostovo and fairy tale style of Palekh. She's studied with Master Palekh Artists Boris and Tanya Kamardin and has taken Zhostovo painting lessons from Master Zostovo Artist Misha Lebedev for 10 years.
Linda is also inspired by Norwegian decorative painting, and has taken Rosemaling from Bjorg Klevi, but most of all she enjoys learning new styles to create color and beauty.
Scroll down to see more of Linda's paintings
Words in Glass II ~ by Peggy Bird
Several years ago, inspired by the poem of a dear friend, I created a glass art piece for a show called "Collaborations."  It was such a rewarding experience that I went on to make a dozen other pieces using her work to guide me. That body of work, which I called Words in Glass, was exhibited at the Broadway Gallery and the Sixth Street Gallery in Vancouver.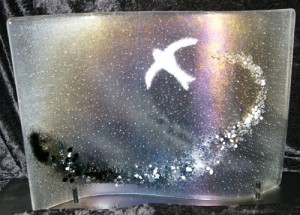 Since then I've not only continued to do my glass art but have written several novels. In one the story revolves around a dead glass artist, a live and very beautiful glass artist and the police detective who falls in love with her after saving her from being accused of murder.
Although fearing that I had created fictional characters considerably more talented than me, I decided to try to make the pieces described in the novels. Words in Glass II is the result.
This exhibit is in four parts and represents two stages in the lives of two artists. The first, Amanda St. Clair, has two shows mentioned in the book. The first, during which she meets the hero, shows her work interpreting emotions. The second exhibit, after a residency at the famed Pilchuck Glass School north of Seattle, is entitled "Opposites."
Eubie Kane, who sadly ends up murdered, created "Weather Moods" first then moved on to "Seasonal Moods."
With each section of work is an excerpt from the novel, describing the setting and sometimes the glass. It is up to the viewer to decide if I captured the essence of the fictional work in my real pieces. ~ Peggy Bird
Peggy Bird has been working with glass for over a decade, creating both functional and art pieces, exhibiting in galleries and shows in Southwest Washington. She was first attracted to glass when she saw stained glass windows in old churches during overseas travel and heard romantic stories about lost formulas for the stunning colors created by medieval artists.
Later she did some rudimentary stained glass works. But it was when she took classes in kiln-forming at Bullseye Glass in Portland that she truly fell in love with the material and began to explore the possibilities of working with it.
The pleasure—and challenge—of working with glass is its unique structure. It can take shape in a kiln when slumped over a mold or with the merest breath when blown. It uniquely captures, transmits and reflects light and color. It has flow and movement.
It also hates to be cut when it's cold, turns muddy if you don't clean it properly before firing, and takes advantage of the haste with which you put it in the kiln and moves to join the piece next to it if you put them too close together.
The colors, shapes and movement of painting, photography and fiber art all have informed Peggy's work, as have words.
Mitzi Christensen
Mitzi was featured at our gallery in April 2011. Learn more about her work.