Broadway Gallery Misses You!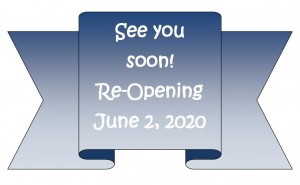 We've Been Creating New Pieces for the Gallery
On Tuesday, June 2nd., the Broadway Gallery will begin a slow, phased re-opening with new limited hours:  Tuesday through Saturdays, 11:00 a.m. – 4:00 p.m.  The health and safety of our artists and visitors will remain our highest priority, which is why when you arrive you will notice some changes including
a)  All staff will be wearing face coverings for your protection, and we encourage visitors to wear them as well. ( If you need one, we will have hand-made masks by Jane and Masami for sale in the gallery)
b) There will be increased sanitation and cleaning of all surfaces before, during and after opening.
c) There will be signs on the doors, floor, and throughout the gallery to help with State guidelines regarding 6-feet social distancing.
d) If you are feeling sick, please stay home and visit another time, and we will, too.
At this time, classes, community featured artists, and First Thursday receptions are suspended until further notice.  Continue following us on Facebook, Instagram, and visiting the website for the latest information.  We look forward to serving you in June and showing off all our new art!