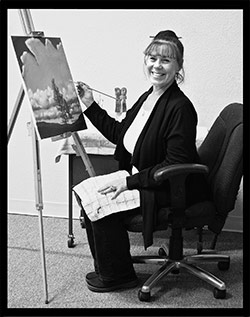 "When I sit down to paint there is a freedom and peace that surrounds me. It is like living the most beautiful, perfect day on earth. To be able to play with the colors and create whatever my mind pictures is such a wonderful feeling. The painting guides and pulls me along where it wants me to go. But to bring joy and warmth to someone else is my goal for each and every piece I create.
Wishing everyone beautiful colors in every day of their lives." ~ Jamie Bayer
I was so blessed to grow up in a home that promoted all kinds of art; from painting and working with yarn to sculpting and weaving wild grass to make baskets. I grew up in the Mojave Desert where the Sierra Nevada mountains were my playground. In my teens we moved to the high deserts of Utah where I had the Flaming Gorge and Green River in my back yard.
But the Northwest kept calling me from the first time I saw it when I was young. I day dreamed all my life of being a painter of beautiful scenery; the kind you see on puzzles. I wasn't able to pursue my dream until last year after my son graduated from high school and my mom decided to live in a care facility after breaking her hip.
The time was mine so I dug out my long lost paints packed many years ago and blew the dust off and dug in after 20 years. I started with the images that had been dancing in my head. My son was so funny when I showed him my first piece. He cocked his head and had a funny grin on his face. I said, "I kept telling you I could help you with your art projects all these years….but you didn't believe me, did you?" He just grinned funny and shook his head.
So here I am self taught and listening and learning daily. When I pick up the brush I vision myself walking through my painting and imagine the sounds that reside within it.
Jamie Bayer
Bearpaw Studio and Fine Art
Kelso, Washington