December
First Thursday – December 6
5:30 – 7:30 pm
Music by Stephen Harvey
Artist Demonstration by Scott McRae
Featured Artists
Gayle Kiser (pastels) | Susy Halverson (fiber art) | Lijah Hanley (photographer)
About Lijah Hanley (photography)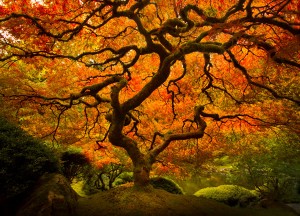 I'm Lijah Hanley and I am 16 years old; photography is my passion. My work was recognized by National Geographic in 2009 and they gave me the amazing opportunity to travel to Peru and the Amazon Jungle with National Geographic photographers Bruce Dale and Amy Toensing. My eyes were opened to a whole new world of opportunities in the world of photography and it's been my obsession ever since. I am in constant strife to find those magic moments where light and landscape come together to create visually captivating images. I hope you enjoy my photos from what I hope to be the beginning of a life-long adventure.
Honors & Awards
About My Show
Photography allows me to capture creation at its most dramatic moments and share it with others. I strive to capture the beautiful moments where light and landscape interact in a way that brings even a glimmer of justice to these beautiful scenes. Many teenagers get a high off of extreme sports, but photography is my extreme sport. Whether it is dangling over a waterfall, climbing a mountain, or going to the ends of the earth to capture the image; photography always brings about another adventure. These magical moments peak for just an instant, and many of these images require days in the field in order to capture the moment. It is my honor to be able to share some of these special moments with you.
-Lijah Hanley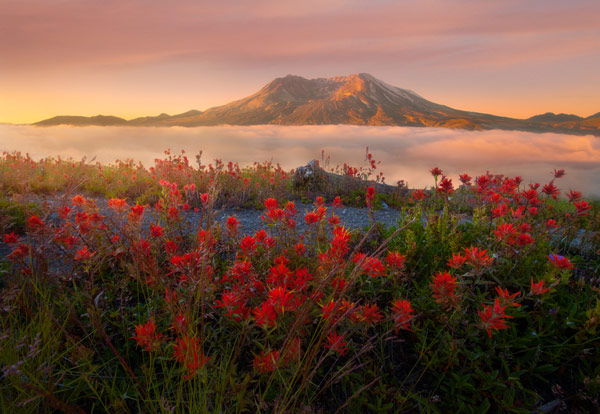 About Gayle Kiser (pastels)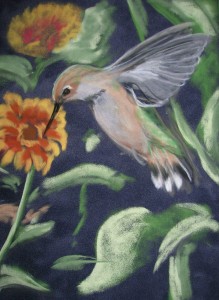 After spending the past seven years doing watercolor, I discovered the wonderful world of pastels. They allow me to work quickly, expressing myself in a palette that is reflected in nature. There is always so much more to learn about art, and exploring new mediums is one of my favorite ways of learning. My father set the path for me by constantly investigating new subjects until the day he died. I hope to leave a similar legacy for my children and grandchildren.
~ Gayle Kiser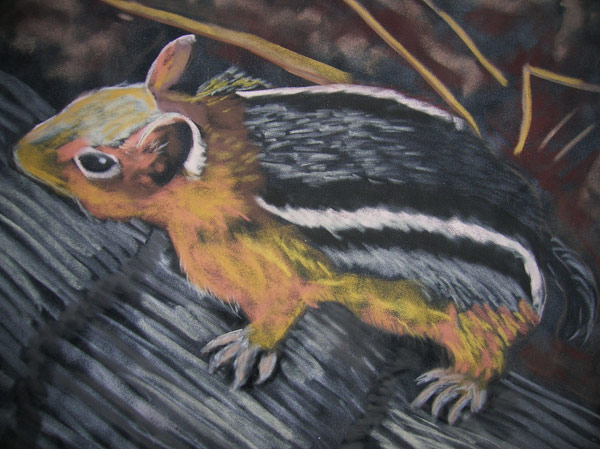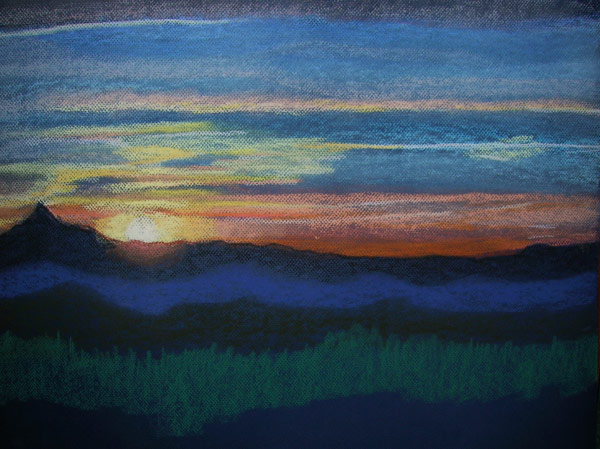 ---
November
First Thursday – November 1
5:30 – 7:30 pm
Music by Dian McCracken and Mike Therault
Artist Demonstration by Gayle Kiser
Featured Artists
Debra Quammen-Chase (pastel) |  Byrn and JoAnne Watson (decoys)
Alisha Fossett (photography) | Lorena Birk (sculptures)
About Debra Quammen-Chase (pastel)
"Art is a joyful, spiritual and in-the-moment process for me. Nature is a huge inspiration for these interactions. I focus on the language of art whenever I am engaged in the artistic process. Composition, color and mood have been the primary focus of these recent paintings which were done in 2012 in the Columbia River Gorge near Crown Point.
Recent artists who have inspired me are Richard Diebenkorn (American), Giorgio Morandi (Italian), and French Fauvism."
~ Debra Quammen-Chase
About Byrn and JoAnne Watson (decoys)
Little did Byrn know in 1974 as he rummaged through a book store in a Honolulu shopping center that his $4.95 sale table purchase, The Art of the Decoy by Adele Earnest would light a fire and passion that would last for more than 30 years.
This little book launched his long journey toward becoming an accomplished carver. His intrigue with wildlife, particularly birds, has become a passion. Since those days in Honolulu, Byrn and his wife JoAnne have become active in several decoy carving organizations and have competed on a regional and national level.
Byrn carves realistic decoys, shorebirds, song birds, as well as interpretive birds. He also carves Santas and other Christmas figures during the Holidays. Byrn's carvings took a distinct turn for the better when  JoAnne began painting his carvings in 1977. She continues to be his partner in carving, birding, and travel.
Since Byrn graduated from Oregon State University and went to work in California, he longed to get back to the Pacific Northwest. In August 2004, the Watson's relocated to Centralia, Washington from North San Diego County. Soon after moving to their new home, they became involved in ARTrails of Southwest Washington and were immediately embraced by the art community.
Byrn and JoAnne are very happy here and feel blessed to live in such a beautiful place with such good friends.
The Watsons can be reached at 194 Summerside Drive, Centralia, Washington, 360.736.1082, email jobyrn@comcast.net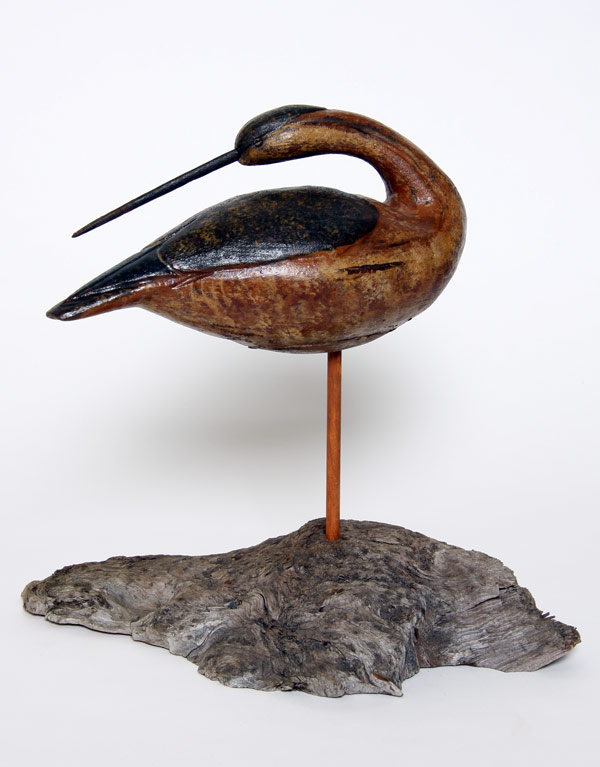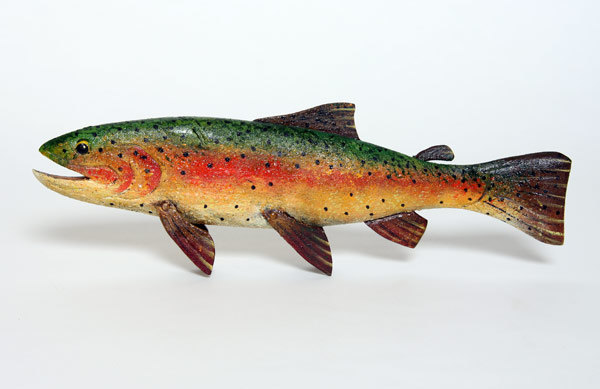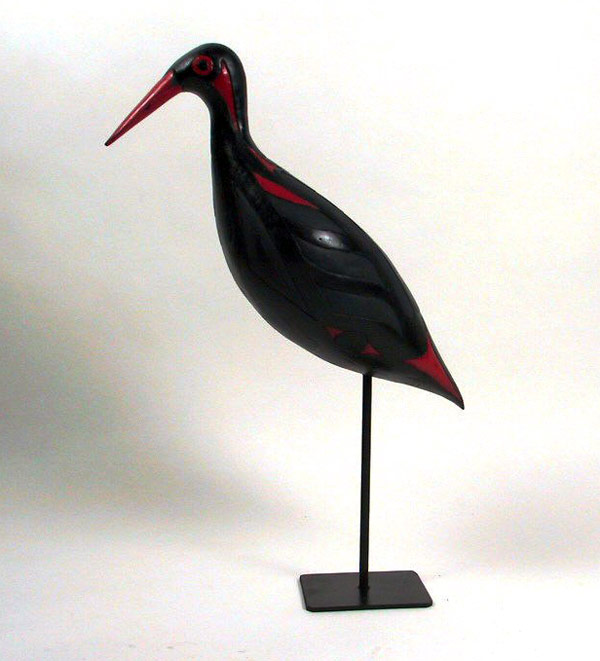 ---
October
First Thursday – October 4
5:30 – 7:30 pm
Music by Stephen Harvey
Artist Demonstration by Susy Halverson
Featured Artists
Jennifer and Todd Cullings (watercolor) | Marisa Mercure (painted tile)
Susan Miller (watercolors) | Toni Lawrence (ceramics)
Toni Lawrence (ceramics)
I am often asked where my inspiration comes from. The answer is from the world around me. My cat comes to greet me in the early morning as I am just waking. Hence  the butter dish with the girl laying on her side and the cat dancing on her hip.
I love to sculpt so when making a dragon, since no one knows what a dragon really looks like, I have a free hand. But if I am sculpting a pig, my hands will try to follow the line of the real animal. I go to Nature to be refreshed.
I have also been asked how long it takes me to make a cup, for instance, and I usually say thirty years. When Herve Villachaize and I first took lessons from Carol Glenn, my cups looked nothing like they do today. I no longer work on a wheel as it broke down years ago, and that happy accident made me hand-build and I loved the feel of it, so I never went back.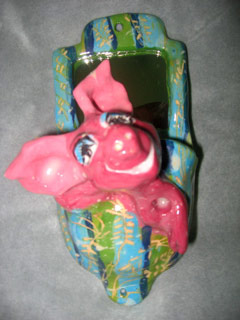 I would like, in my next life, if there is such an occurrence, to go to art school, as I have never had formal training.
My message to anyone reading this statement is to enjoy the moment as it is the Goddess' gift (without being religious at all).
~ Toni Lawrence
A native Angeleno, artist Toni Lawrence's childhood years were spent in Rome, Italy, which, she says, provided the single-most important influence on her work.
"The myths and fairy-tales that were read to me in Italian," recalls Lawrence, "are the basis for the recurring themes in my ceramics and watercolors today."
Ms. Lawrence maintains her residence and art studio in Pe Ell, Washington. Visit her website Ceramics by Toni.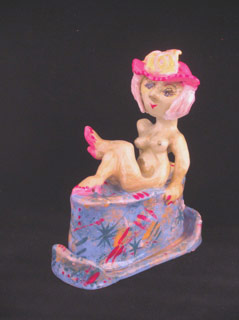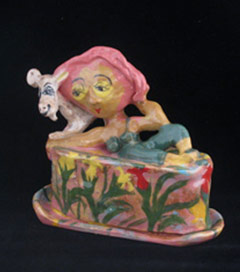 ---
Susan Miller (watercolors)
Susan Miller, a Northwest artist, loved to draw as a young girl. She continued her studies and currently creates sketching, sculpting and watercolor originals. Susan's versatile talents can be seen in her unforgettable characters created for children's books.
Her whimsical illustrations take the reader on a journey into another world full of innocence, fun and a bit of mischieviousness. Enjoy! ~ Susan Miller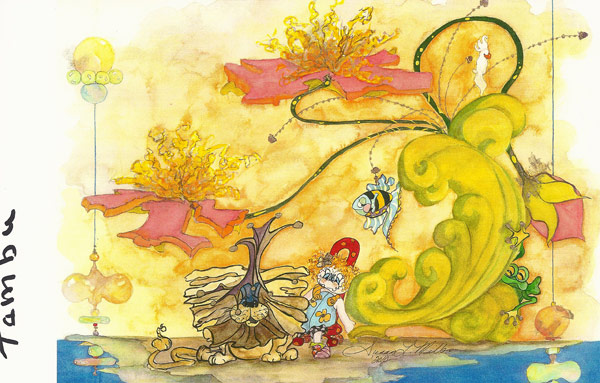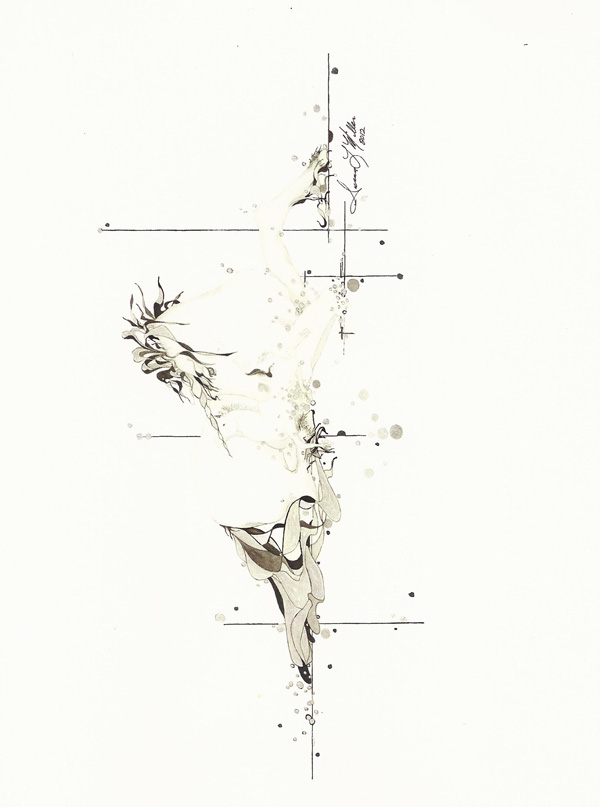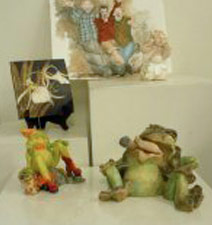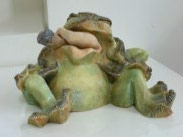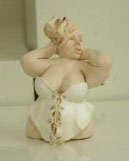 ---
Jennifer and Todd Cullings (watercolor)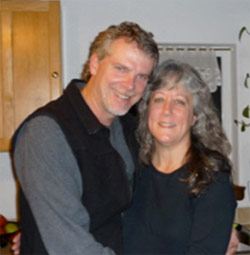 Jennifer and Todd share a passion for nature and Mount St. Helens, where Todd has spent over 25 years educating, entertaining, and inspiring the volcano's many visitors. The couple shares a love for watercolor painting with fine details and textures. They achieve this balance in their art using layers of watercolor paint, along with watercolor pencils.
Mount St. Helens, along with its incredible landscapes, wildlife, and vast natural wonders, are all a continuous source of inspiration for the two.
See more of their work at Red Zone Graphics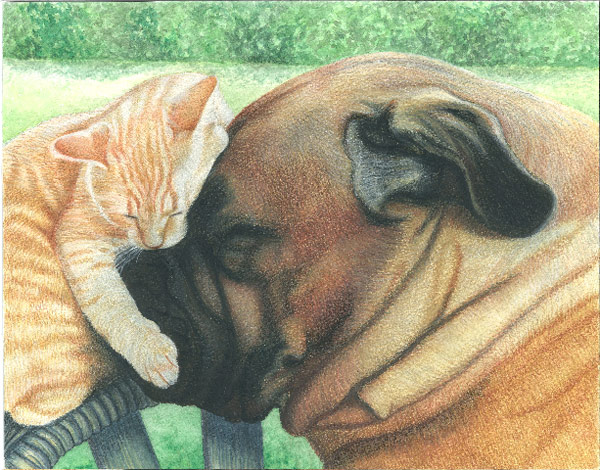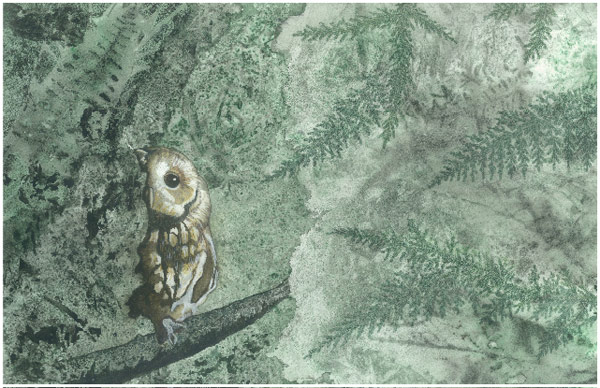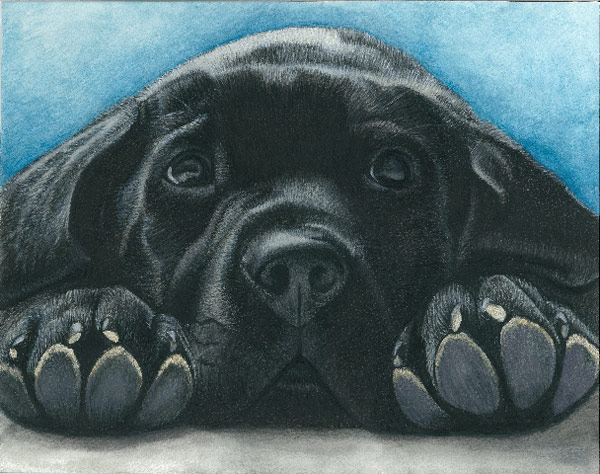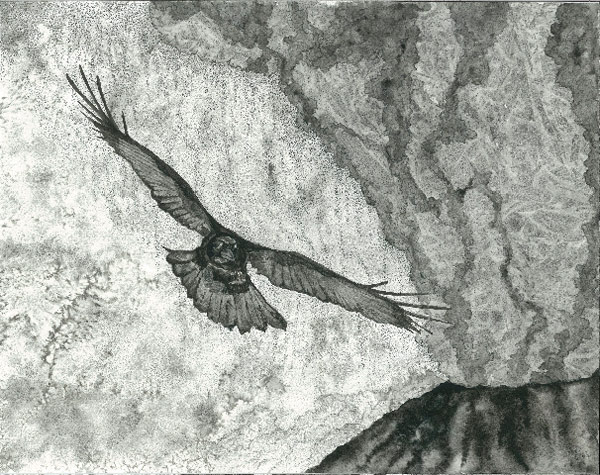 ---
Marisa Mercure (painted tile)
"The tiles done mostly in oils and some in acrylics have, in most cases, preserved their characteristics and flaws including their color, while still giving a clear representation of a subject which absolutely makes them one of a kind. They are paintings and they should be treated as such." ~Marisa Mercure
---
September
30th Anniversary Celebration!
Daily drawings for customer appreciation prizes all month!
Read the news story 
First Thursday & 30th Anniversary Celebration – September 6
5:30 – 7:30 pm
Music by Dave Mongeau
Cake and champagne  will be served to celebrate our anniversary.
Featured Artists
Ray Cooper (paintings) | **Trudy Woods (pottery)
**David Myers (photography) | **Audrey Hoffman (paper art and weaving)
**original members
Trudy Woods
about Trudy Woods
Audrey Hoffman
Even before I could read books became central in my life.They have accompanied me through years of exploration and learning; exciting my senses with wonder. My eyes have been filled with words and images, shapes and colors, my ears have drawn in the sound of words and left a taste that I savor on my tongue. Paper and ink have scents and textures that continue to thrill my fingers and nose. All five senses kept alive and eager by books and the world they have opened to me.
Born with curiosity I continue to be lead into new venues, going where my boon companions lead me.
About Audrey Hoffman
---
August
First Thursday – August 2
5:30 – 7:30 pm
Music by Dave Mongeau
Featured Artists
Bill Smith (photography) | Jessie Camerer (stone jewelry)
Mary Kohlschmidt (jewelry and paper art)
About Bill Smith
I graduated from Rhode Island School of Design in 1965. I had some training in photography from the Yale Summer School of Art and Music.
Since 2007, my wife Grace and I retired to Kalama from Texas where I worked as a software engineer. We love it here!
My delight is to attempt to bring all my thoughts and knowledge of design and color to make art inspired by our beautiful Washington environment.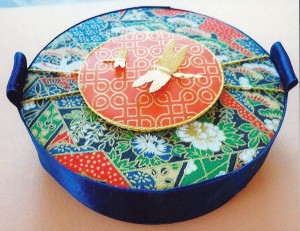 I have always been interested in art – various forms – and have taken professional lessons in oil painting and pottery. My current interest is in beading. I design bracelets, necklaces and earrings, and I have expanded to other fine art beads and beading.
Most of my Peyote jewelry is made with Miyuki (Japanese) beads which are some of the finest in the world. More uniform in size and shape than their Czech counterparts, Japanese beads come in a wide range of colors and finishes.
I work with Austrian Swarovski crystals and various beads, wire, sterling silver and many materials which has made my transition from a professional career to a fantastic retirement career. I spend as much time creating as possible – both jewelry and paper creations – including greeting cards and boxes, eight-sided oriental boxes and many other designs.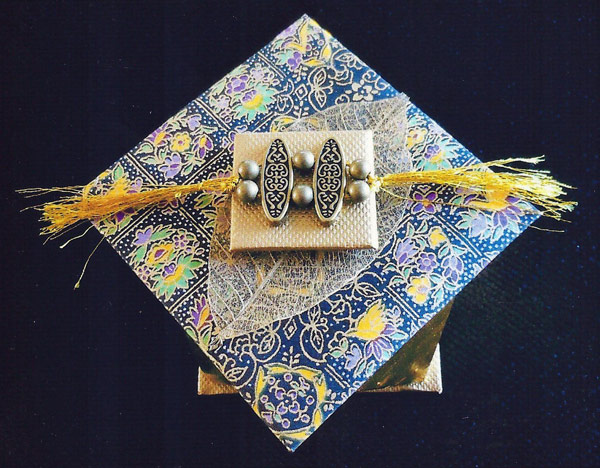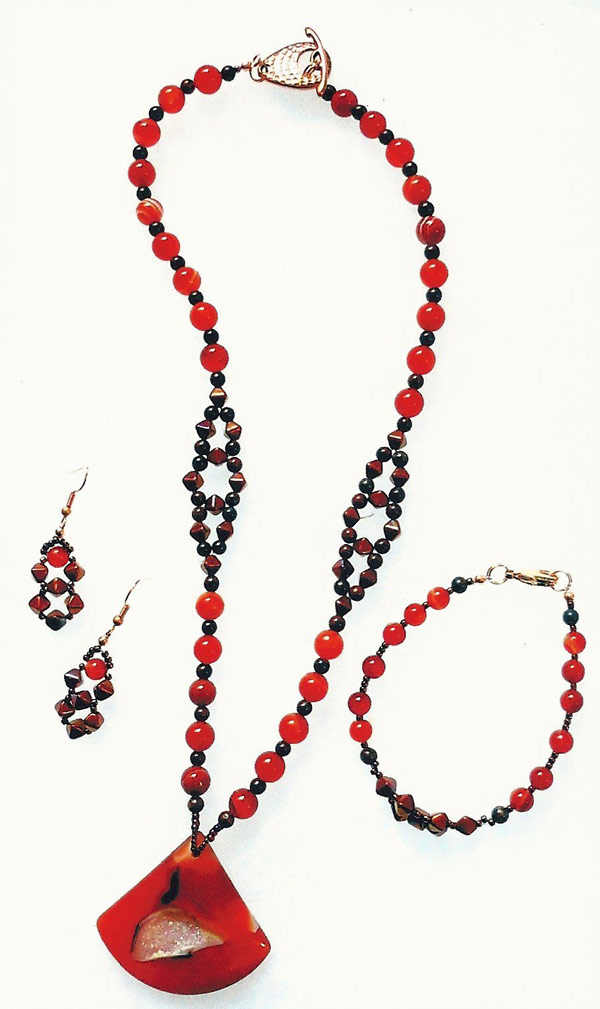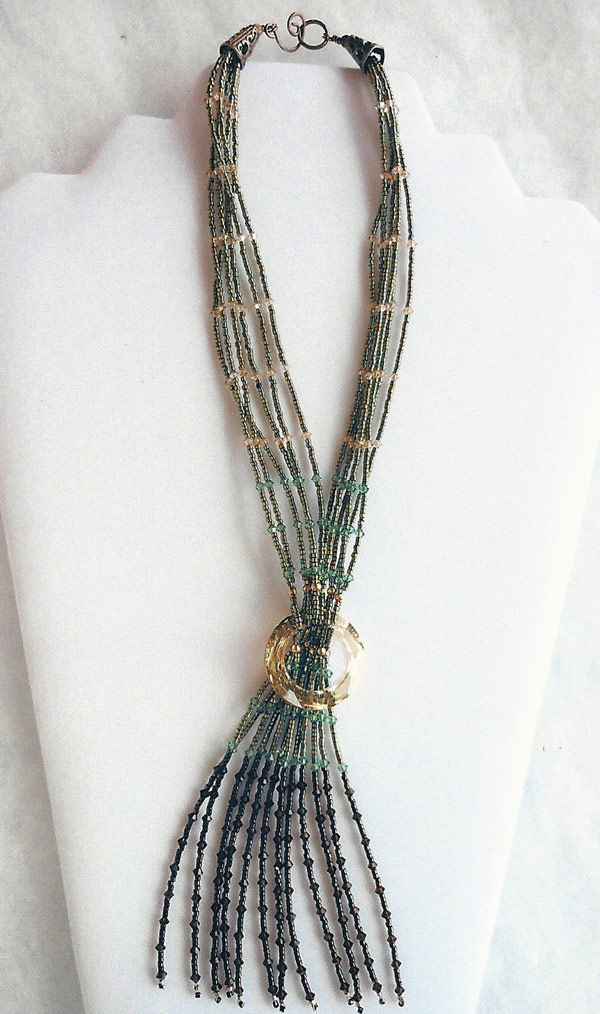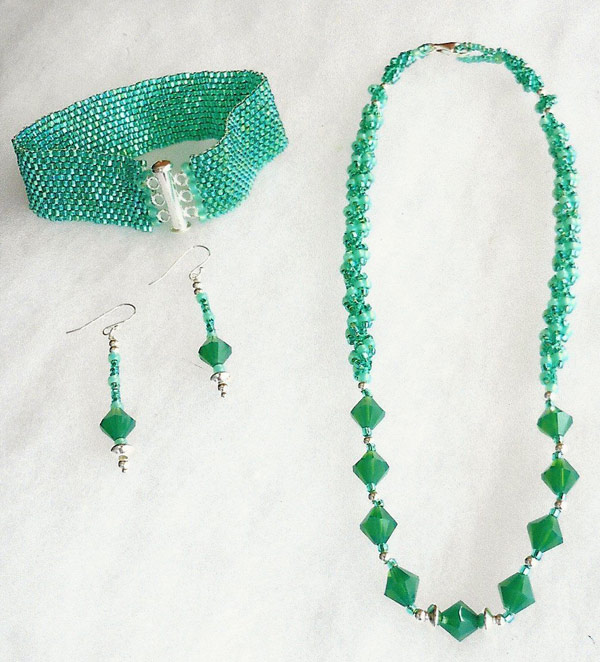 ---
July
First Thursday – July 5
5:30 – 7:30 pm
Music by Joe Green
Featured Artists
Karol Williams (tapestry) | Carol Boudreau (paintings)
Colleene Little (ceramics) | Janis Newton (pottery)
---
June
First Thursday – June 7
5:30 – 7:30 pm
Music by John Crocker
Featured Artists
Just Desserts Show | Student Art Show
Just Desserts Show
First Place ~ So Much Chocolate, So Little Time by Vicki Brigden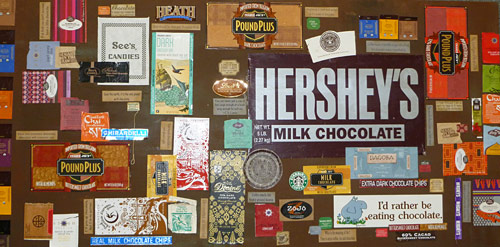 Second Place ~ A True Story by Kim Russ

Third Place ~ Afternoon Tea by Carol Boudreau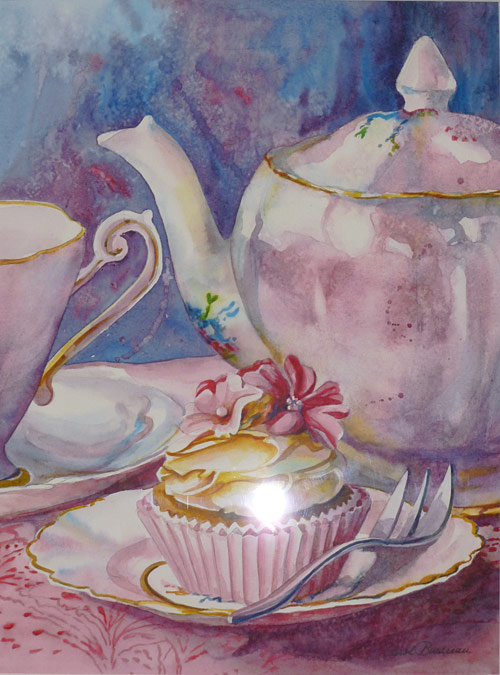 ---
 Student Art Show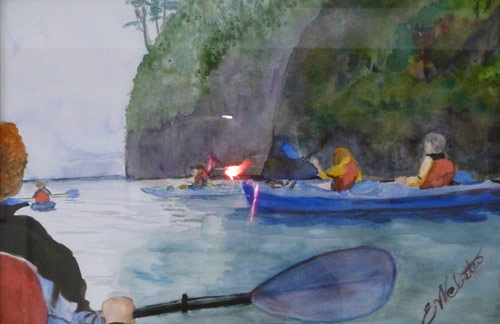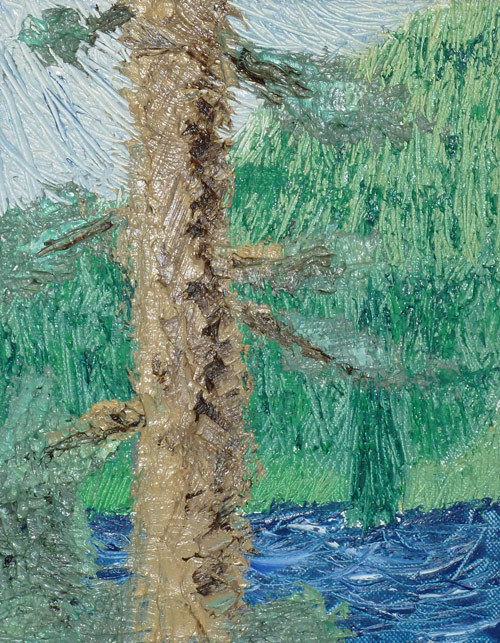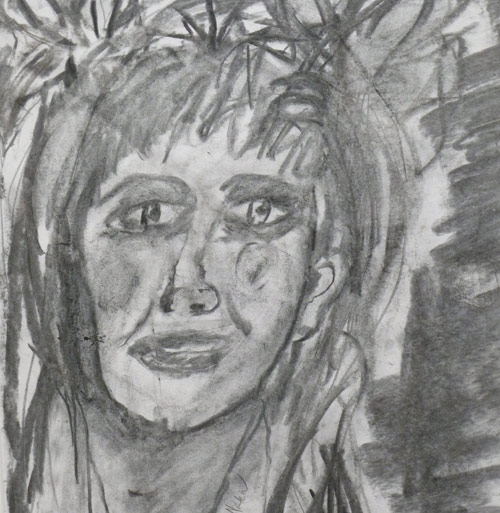 ---
May
First Thursday – May 3
5:30 – 7:30 pm
Music by Dian McCracken
Featured Artists
Marisa Mercure (paintings) | Gini Smith (paintings)
Vicki Brigden (jewelry) | Diane Springer (mixed media)
" I love to create; to put colors and textures together. 
Whether it is making a piece of jewelry, knitting, painting, embellishing one of John's pots, or putting together a display; the best part is not the finished piece, but the process of combining different materials, colors, and textures together. "
~ Vicki Brigden
My interest in art goes back as long as I can remember. As an art major in high school I kept very busy with art projects, both in and out of the classroom. For example, I painted sets for plays and was art editor of the school annual. At the end of senior year I won an art scholarship through the University of Illinois for summer camp and workshop.
By then I knew I wanted to be an artist/teacher. I enrolled in Illinois State University and majored in art education. Most of the instruction was geared towart contemporary abstract art.
I taught for only a short time, as I found I didn't have enough time to paint and create for myself. I find it more rewarding to teach drawing and painting to students who really want to learn.
For the past 40 years I've taught in my studio or classes at The Broadway Gallery. I've been a member since 1987. Before that my now deceased husband, Loman Smith and I owned and operated the Woodsmith Gallery in Rainier, Oregon.
Like in any field, one must keep up with new materials and ideas. As a charter member of 30 years with the Columbian Artists Association, I keep active and involved. Through the years I've taken classes and workshops with various artists, including the late Russian artist Sergei Bongart.
I do some sketching, but usually take photos for my subject matter. My painting style changes with my medium and subject; however, I usually stay with a limited palette.
Over the 50 years I have won numerous awards and ribbons, my work has been included in many private collections, as was as purchased by the Astoria Library, Norpac and Mentor Graphics.
I hope you enjoy the exhibit. Hopefully it will inspire and motivate you towards your own endeavors.
~ Gini Smith
See more of Gini's paintings.
About Marisa Mercure
Marisa's new exhibit of sketches and drawings done in pencils and Conte crayons will be on display this month!
See more of Marisa's artwork
---
April
First Thursday – April 5
5:30 – 7:30 pm
Music by Dian McCracken
Featured Artists
Michael Kohlmeier (paintings) | Mary Fortner (jewelry)
Tom Roth (photography) | Scott McRae (miniatures)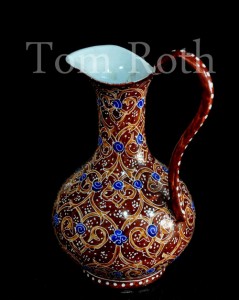 About Tom Roth
A native of Longview, Washington, Tom Roth is a 2008 graduate of Mark Morris High School. Tom is a senior at the University of San Diego where he is a photographer for The Vista, USD's student newspaper as well as for USD Radio.
He has covered many sporting events including West Coast Conference athletics and the Dubai World Cup. He has shot dozens of concerts including Train, Erykah Badu, and Maroon 5.
In addition to private client work, Tom has produced several gallery pieces. In 2008, he was featured in the Broadway Gallery's Senior Feature show as a student of Susy Halverson.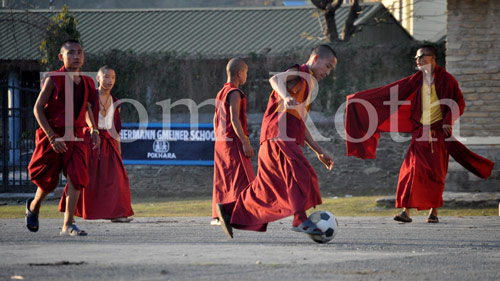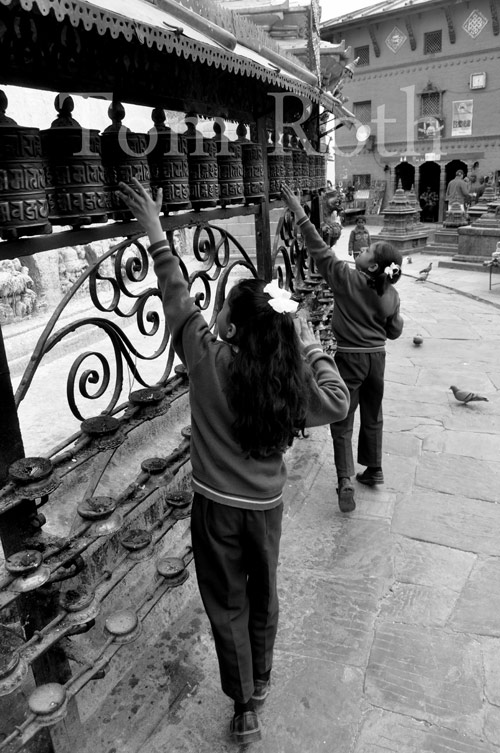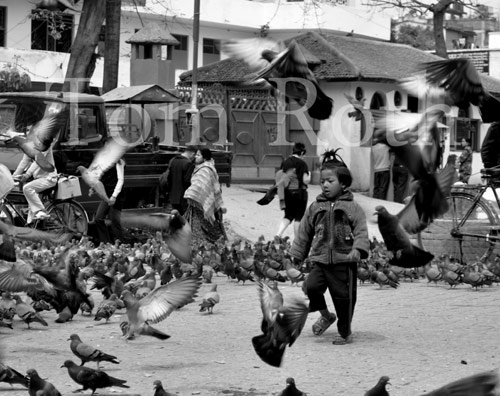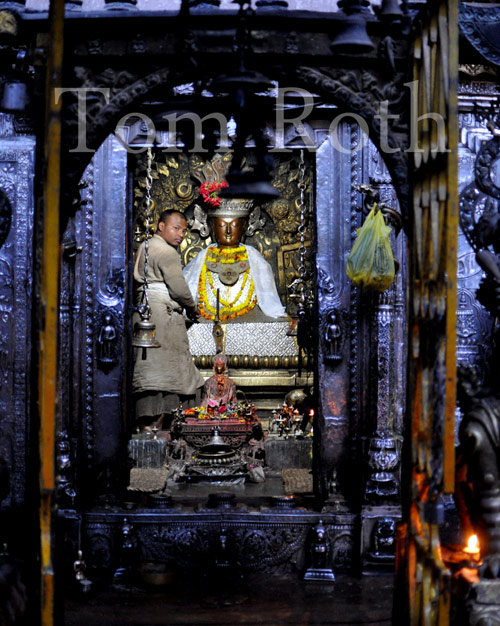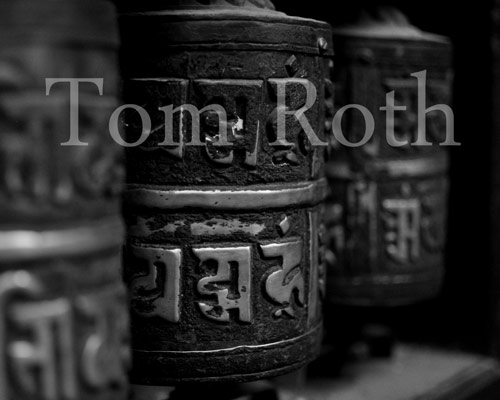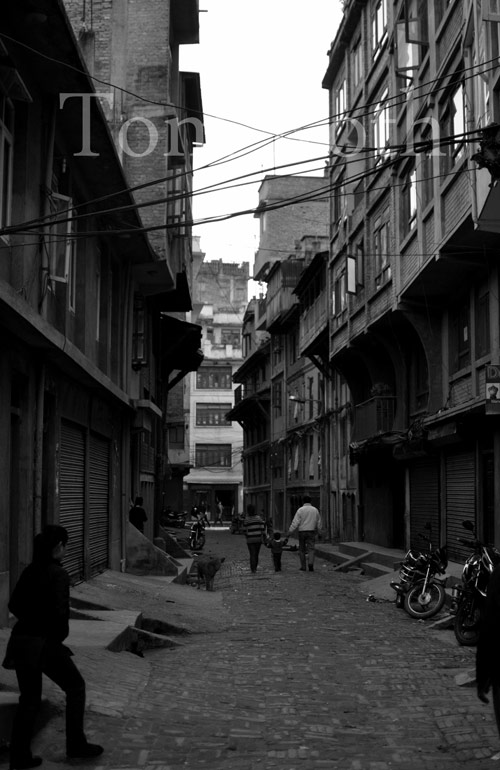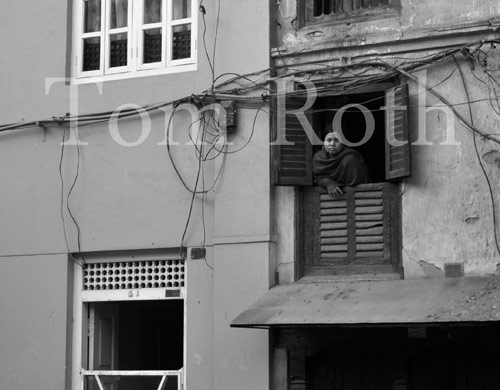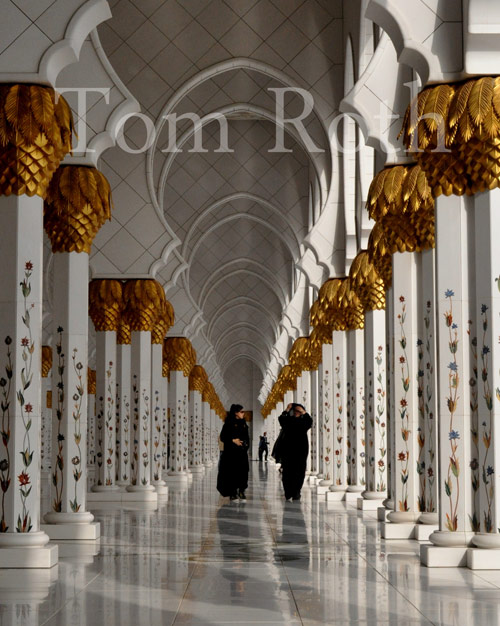 About Mary Fortner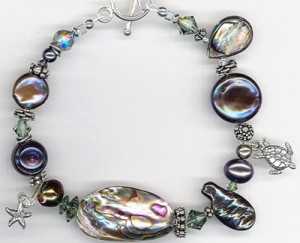 "The spirit that guides my hand and makes my heart race with a new idea or design is that same force that all artists feel. The drive to create; to make something beautiful or functional or inspirational is what keeps us breathing and living. Art—in all forms— gives joy to the world and to the artist. "
~Mary Fortner
---
March
First Thursday - March 1
5:30 – 7:30 pm
Music by Steve Harvey
Featured Artists
Ron Nelson (paintings) | Peggy Bird (kiln formed glass work)
Mitzy Christiansen (paintings) | Linda Schneider (paintings)
Mitzi grew up in Northern California and lived for many years along the California coast and on the Big Island of Hawaii before retiring to Cathlamet. In school she took art classes but didn't get back into it until retirement. Since then, she's taken classes and workshops and accumulated a library of instruction books.
Her love of the sea and endless hours spent on boats is reflected in her paintings. She enjoys drawing and sketching with pen and ink and painting in acrylics. Although she has a picture in her mind when she starts, she prefers to work out the details on the canvas as she goes, making changes as needed and letting it evolve. She works fast and likes the quick drying aspect and strong bright colors.
The ability to make changes until she's happy with the result gives a freedom and boldness not available in other media. If her art brings happiness to someone, then she has achieved her goal.
Linda is a nurse by profession. She has always admired art in many forms. She began painting 15 years ago, upon her return to live in Washington, when her Mother invited her to join her at a painting workshop; acrylic on wood. Her
interest in painting grew quickly, as painting for a hobby makes a wonderful balance for the demands of the nursing profession.
Linda has studied many types of painting; beginning with acrylic, then on to oil, pastel and watercolor. With her watercolor, she particularly enjoys creating scenes with animals and flowers as found in nature.
For this exhibit, Linda's focus is in her three dimensional art, which is painted acrylic on wood. She has always admired the Russian floral style of Zhostovo and Russian fairy tale style of Palekh. She has studied with Master Palekh Artists Boris and Tanya Kamardin, and has taken Zhostovo painting lessons from Master Zostovo Artist Misha Lebedev for 10 years. Misha travels from Russia to teach painting workshops in the Northwest on an annual basis. Linda and her Mother continue to study with him each year. This year's workshop is at Friday Harbor,
on San Juan Island, hosted by JoAnn Karpf.
Another favorite style of painting for Linda is Rosemaling; Norwegian decorative painting. Linda has taken Rosemaling from Bjorg Klevi.
Linda enjoys painting in different styles and is always looking for an opportunity to learn new styles to create things of color and beauty.
Peggy Bird has been working with glass for over a decade, creating both functional and art pieces, exhibiting in galleries and shows in Southwest Washington. She was first attracted to glass when she saw stained glass windows in old churches during overseas travel and heard romantic stories about lost formulas for the stunning colors created by medieval artists.
Later she did some rudimentary stained glass herself. But it was when she took classes in kiln-forming at Bullseye Glass in Portland that she truly fell in love with the material and began to explore the possibilities of working with it.
The pleasure—and challenge—of working with glass is its unique structure. It can take shape in a kiln when slumped over a mold or with the merest breath when blown. It uniquely captures, transmits and reflects light and color. It has flow and movement.
It also hates to be cut when it's cold. Turns muddy if you don't clean it properly before firing. And takes advantage of the haste with which you put it in the kiln and moves to join the piece next to it if you have put them too close together.
The colors, shapes and movement of painting, photography and fiber art all have informed Peggy's work. As have words. For this medium, there is no limit to what can be inspirational.
---
February 2012
First Thursday – February 2
5:30 – 7:30 pm
Music by Dave Mongeau
Featured Artists
Michael Tolleson | Irene Bacon (china painting)
Susy's Seniors | Beth Bailey (small paintings)
About Susy's Seniors: Shawnee Chadwick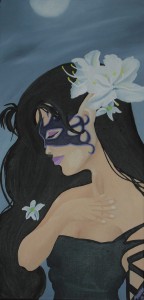 My name is Shawnee Chadwick and I'm 18 years old. Besides all the hard work I do in high school, I dedicate myself 100% to art. For as long as I can remember, I've always been interested in any form of art, starting with crayons at an early age and working my way up with pencil. To further my art skills I started taking oil painting classes with Susy Halverson and stuck with it for eight years. I love painting and have definitely seen an improvement over the years
As for drawing, I've always taught myself new drawing skills with detailing in portraits. But to learn some more techniques, I started taking charcoal classes with Lorena Birk over the summer. She's helped me  learn to place the right shadows and detail to really make portraits come alive. I've been impressing my friends and family with how far I've come by practicing, bringing me one step closer to fulfilling my dream of being a professional artist
Music has also been a major influence in my life. Besides all the love and support from my friends and family who are constantly encouraging me, music helps my imagination run wild. Whenever I hear a song that presents an image or story, I have to write it down. Then I can draw the image later or create my own story from it. If I don't make it as an artist, I would probably fall back into writing and developing my own stories, using my artwork to explain the story. That way I wouldn't really be leaving art behind, just expressing myself in a different way.
Here's some of my paintings that will be on display in February.
---
Irene Bacon has been painting since 2001. She paints regularly with a group of painters working with Marie Geisler.
China painting is an ancient art form requiring a soft touch and patience. She finds it very satisfying to create beautiful, yet functional art art objects. Floral motifs are her most common subjects, but she sometimes incorporates other art interests of landscape and calligraphy.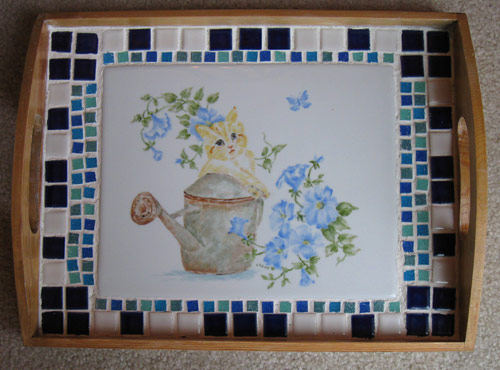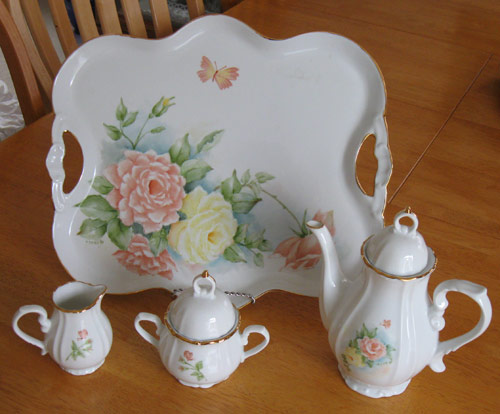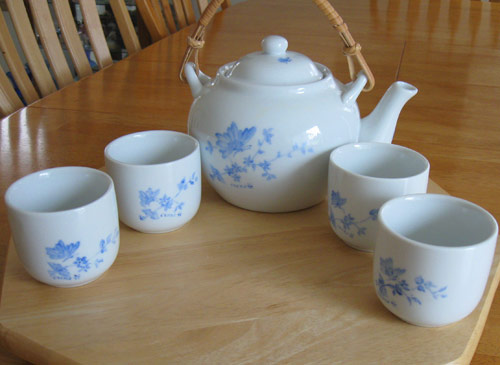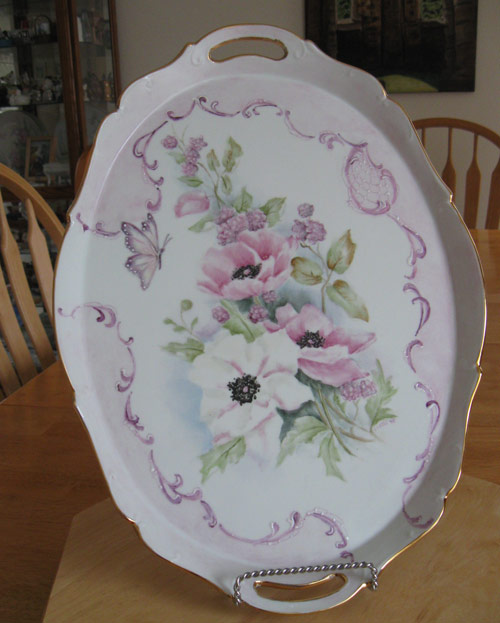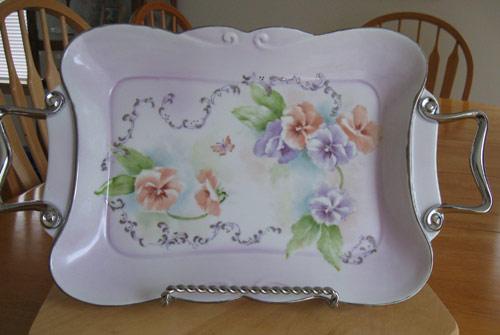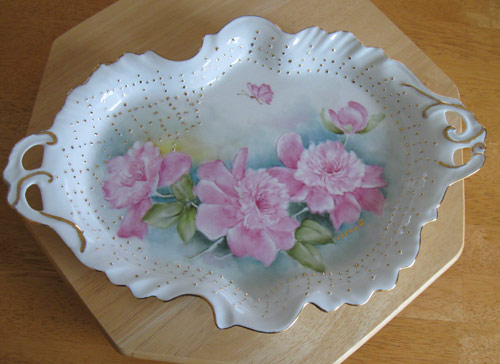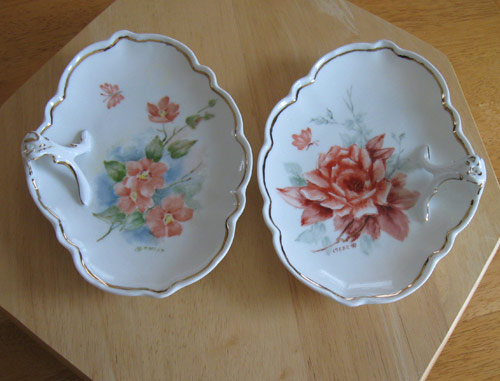 ---
January 2012
First Thursday ~ January 5
5:30 – 7:30 pm
Music by John Crocker
Featured Artists
Fiber Arts Show
Mia Shulte (paintings)
Margo Westfall and Don Lovett (metal sculpture)
"This series of paintings reflects a year-long quest to capture the essence of a bridge between nature, and significant moments in my life.
My inspiration comes from time spent on Whidbey Island, and along the Columbia River Gorge this past summer, as well as time spent exploring life drawing. Nature and the human form are often merged in my paintings, all natural forms being reiterated in the world around us. I see an intimate connection between the human body and our natural habitat.
It has been said that abstract art is tweaking reality with emotional intent; this is certainly what defines the objective of my paintings. The emotional twists and turns of everyday life inhabit my images of nature. What I see, and what I feel, melds together into an abstract statement, that I hope will connect the viewer to the painting." ~ Mia Schulte http://www.mia-artist.com/
---
About Margo Westfall and Don Lovett
Line, Shape and Form is a small-works sculpture exhibit by self-taught metal artisans Margo Westfall and Don Lovett. A departure from their large public art sculptures, this home/business-scaled collection is a unique blend of painting and steel sculpture that primarily features botanicals.
For Westfall and Lovett, the recurrent theme of transformation influences and motivates their work. The artists see steel as a metaphor for transformation, as nearly all steel has been recycled or transformed.
"Steel also serves as a metaphor for people in our lives," Westfall noted, "that is due in part to their shared traits: inherent strength, resilience, unpredictability. Like people, steel transforms and develops a unique patina over time."
Described by noted artist Gail Ramsay Wharton as "out of the box yet approachable", their balanced and detail-driven style is heavily influenced by the contemporary Sogetsu School of Ikebana – Japanese flower arranging. Westfall and Lovett hope their love of steel as an art medium will be infectious, and that their steel works will broaden the common conception of, and appreciation for metal sculpture.
~ Margo Westfall and Don Lovett
Margo Westfall and Don Lovett have been working together in steel and other metals since 2004, selling their work from their Olympia, Washington workshop to clients throughout the Pacific Northwest, California, Arizona, Massachusetts, and beyond.
Margo has been involved in art and media much of her life. She hails from a musical family and has worked as a writer, television and radio producer and director of art and music video documentaries. She is an accomplished glass artist and welder, and is a professional steel sculptor with a critical eye for detail.
Don is a licensed professional land surveyor and consultant, amateur Northwest historian, wood carver, and self-trained artist-craftsperson whose mathematics and critical thinking skills complement the duo's creations in metal.
Together Westfall and Lovett produce large steel sculptures for international sculpture exhibitions, one-of-a-kind corporate and residential sculptures, and a line of rustic indoor and outdoor sculptures for galleries throughout Puget Sound. They have served as shop assistants for the South Puget Sound Community College's welding program, and are members of Arts Olympia.