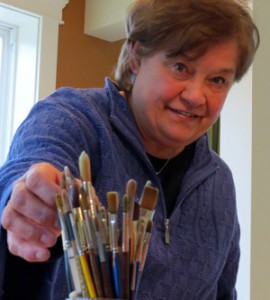 Paintings with dyes on Silk, Watercolor, Acrylic/Mixed Media
I grew up in Columbia Falls, Montana near Glacier National Park. I spent a lot of time outdoors hiking, swimming, skiing, sledding, skating, and rowing my dad's fishing boat. I continue to be inspired by the natural world. I received a Bachelor of Arts in English and Art Education from Whitworth University and continue to be grateful for my art classes there, which taught me how to express myself through art. I taught English in the Mead, Washington School District for two years, and English and Art classes at Flathead High School and LASER alternative high school in Kalispell, Montana for over twenty years. I also taught art at Narmer American College in Maadi, Cairo, Egypt in 2004-2005. I love teaching. In 2003, along with twelve other teachers across the U.S., I was granted a Fulbright-Hayes seminar in the Czech Republic and Slovakia to study the art, history, and culture of Central Europe. In 2004 I was named Montana's Art Educator of the Year, and in 2011, along with thirteen other teachers from the U.S., I was accepted as a consultant to The National Center for the Humanities for the Modern Era in America.
I enjoy stories, hearing and telling them. They connect me to other people, other ways of thinking or doing things, and other cultures. I want my art to tell stories about what I've seen or done or experienced. I am often drawn to painting landscapes or nature simply to tell the story of how I experience the beauty or power of our natural world. I also love to travel to other countries, and you will see subjects and stories in my art from places I've visited or lived: Italy, Slovakia, The Czech Republic, Greece, Jordan, Egypt, Mexico, Panama, Costa Rica, Thailand, and Myanmar.
I paint in my studio, and I paint outdoors on location. I generally have my camera and sketchbook with me to record things that touch me. Among other forms of art, I paint with dyes on silk stretched on a frame. I taught myself how to do this from a book I bought. My art is about connections between myself, other people, and nature. It is probably best said by Yann Martel in The Life of Pi:
"Stories—individual stories, family stories, national stories—are what stitch together the disparate elements of human existence into a coherent whole. We are story animals."